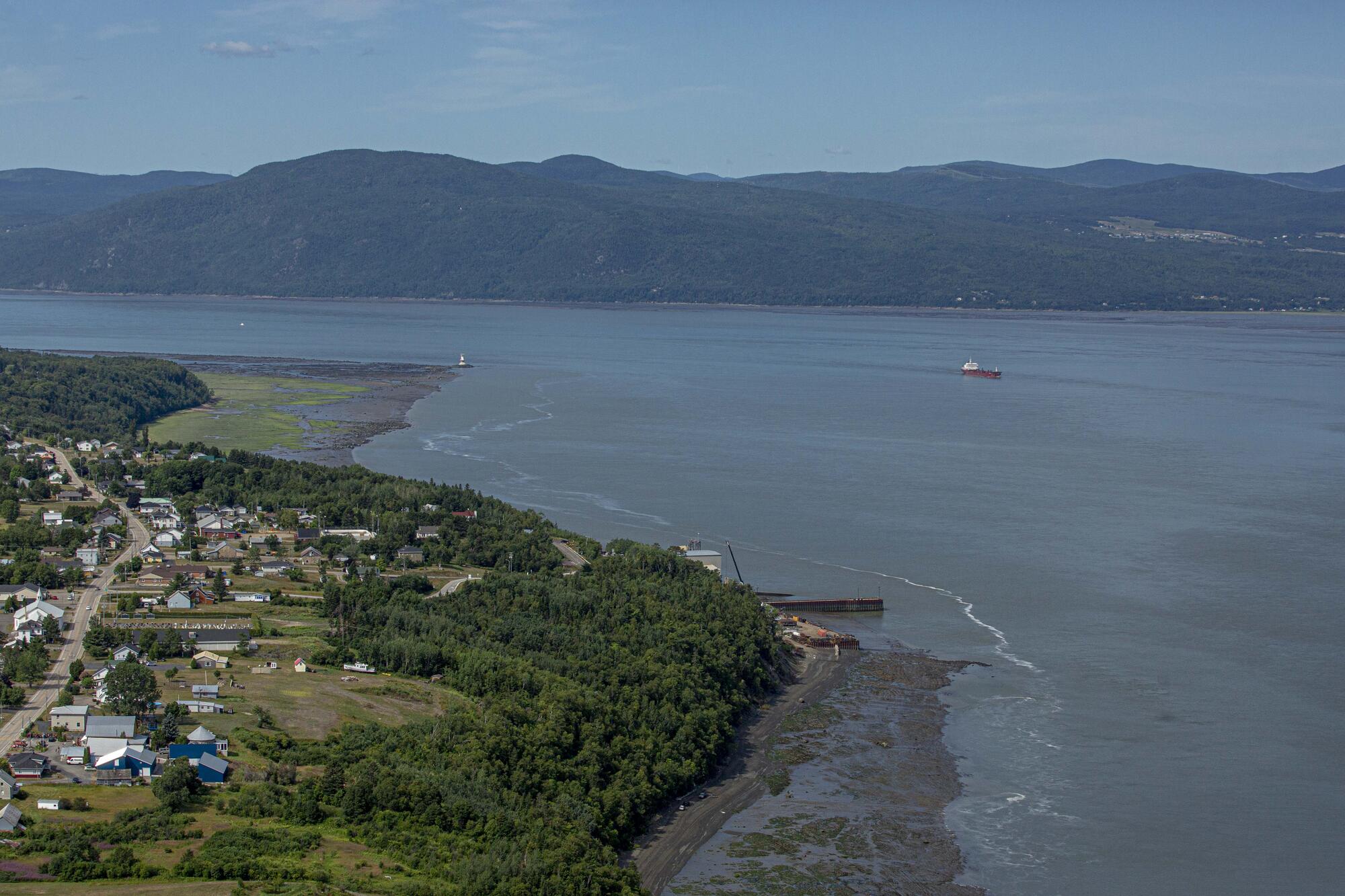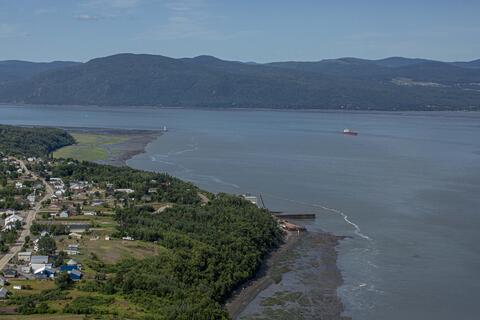 A Tour of the Isle-aux-Coudres
Apart from the number of miles referred to, the lyrics to Félix Leclerc's "Le tour de l'Ile" pretty much say it all: peacefulness and sea grasses, the geese, and the colours of the setting sun are effectively similar to those of its closest cousin: the Île d'Orléans. Except for that, it could be its size, its remoteness or we-don't-know-what, it's a happily eccentric place!
23 km of happiness
L'Isle, as its simply known around here, is a wholly unique place, just like all of its artist, creative, sailor, storyteller residents, not just any ordinary folks… They are the guardians of the rich cultural heritage of this island full of strong people, possessed of a touch of madness unique to island-dwellers. Here, important local folklore includes ice-canoe crossings and porpoise fishing, and the cetaceans from which residents of the Isle-aux-Coudres have taken their official and affectionate nickname is les marsouins. Even now, the island's culture is a rich one, with many musicians, painters, illustrators and artists originally from or residents of this patch of ground in the middle of the St. Lawrence River: Jimmy Perron, painter; Geneviève Jodoin, singer; Simon Pedneault, guitarist; and Gabrielle Desgagnés, to name but a few people from a long list…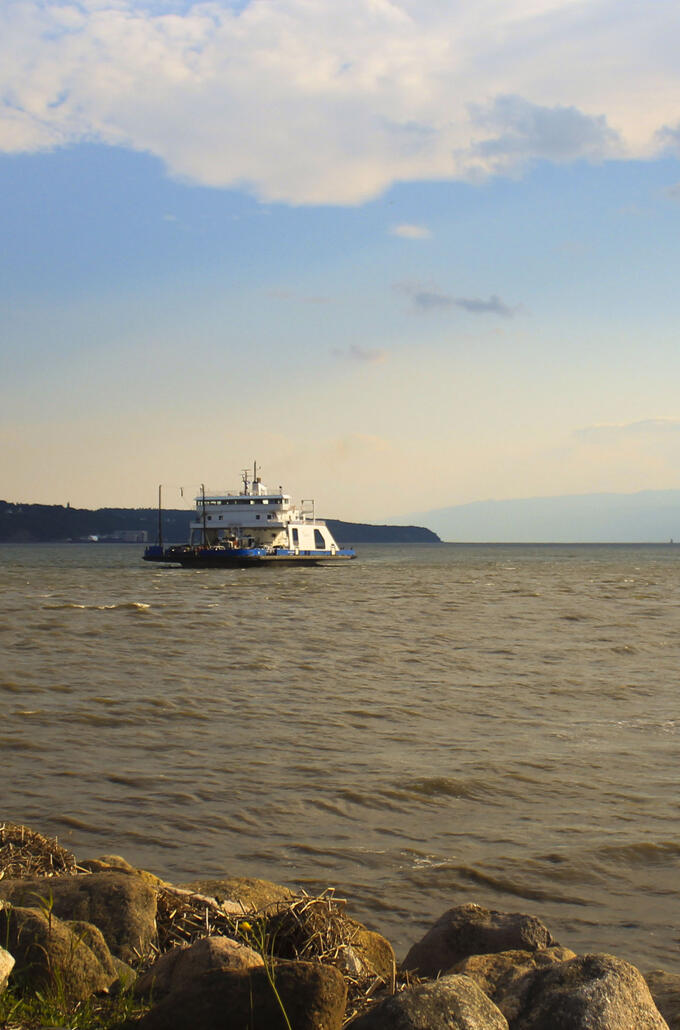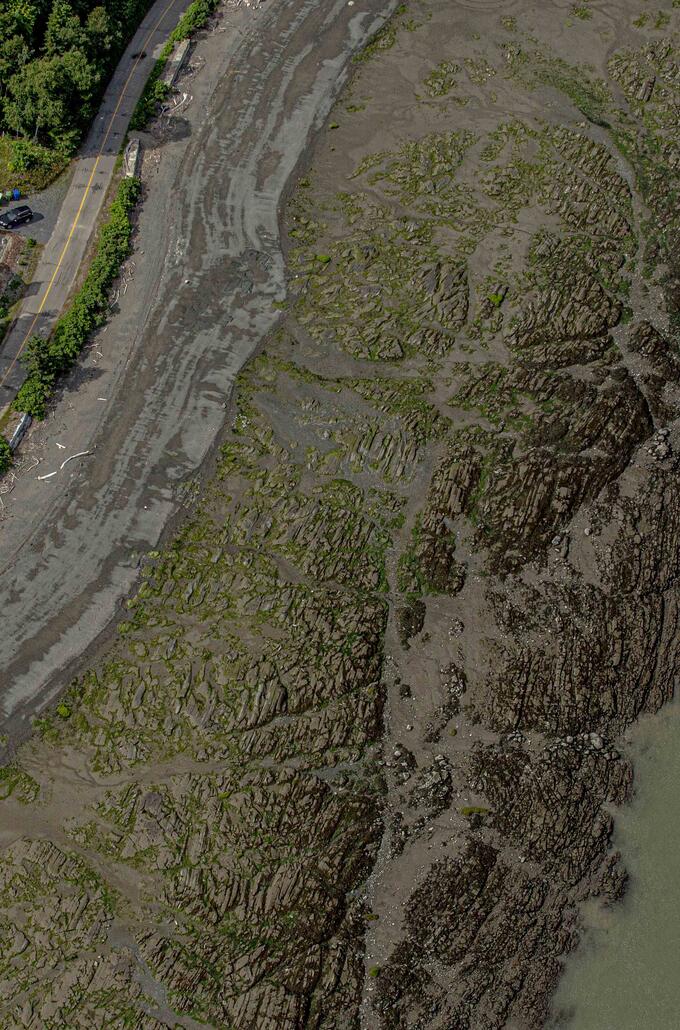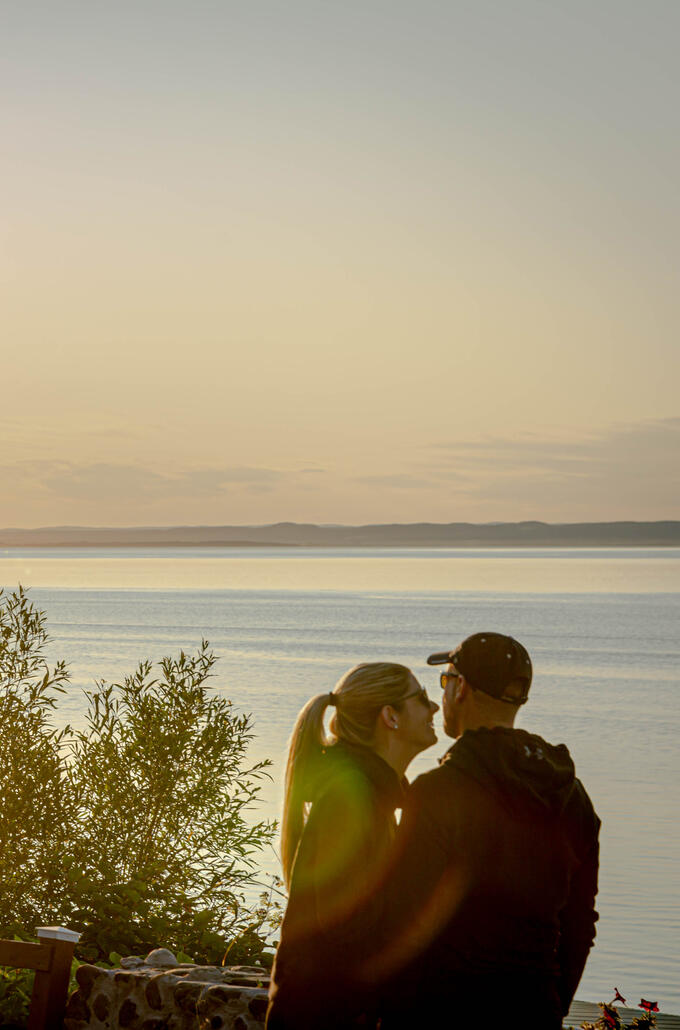 Today, Go Charlevoix welcomes you aboard the Société des traversiers du Québec's MV Félix-Antoine-Savard, departing the shores of  Saint-Joseph-la-Rive for the only island in the Charlevoix area. Here, the word "island" is still written the same way 16th-century French explorers wrote it: I-S-L-E. Discovered in 1535 by Jacques Cartier himself, he was the one who chose the name Isle-aux-Coudres, because of the abundance of coudriers, now better known as noisetiers [hazel trees].
Whether by bicycle, tandem bike, car, a minivan full of people, the Isle provides you with a solid 23 km of happiness! Between orchards, windmills, and paddleboard and kitesurfing school, there's so much to be discovered on the Isle-aux-Coudres that a few days stay, to get a better sense of the pace of island life, would be a welcome thing. Whether you have one day or several, we present you with our must-dos on a tour of the ISLE: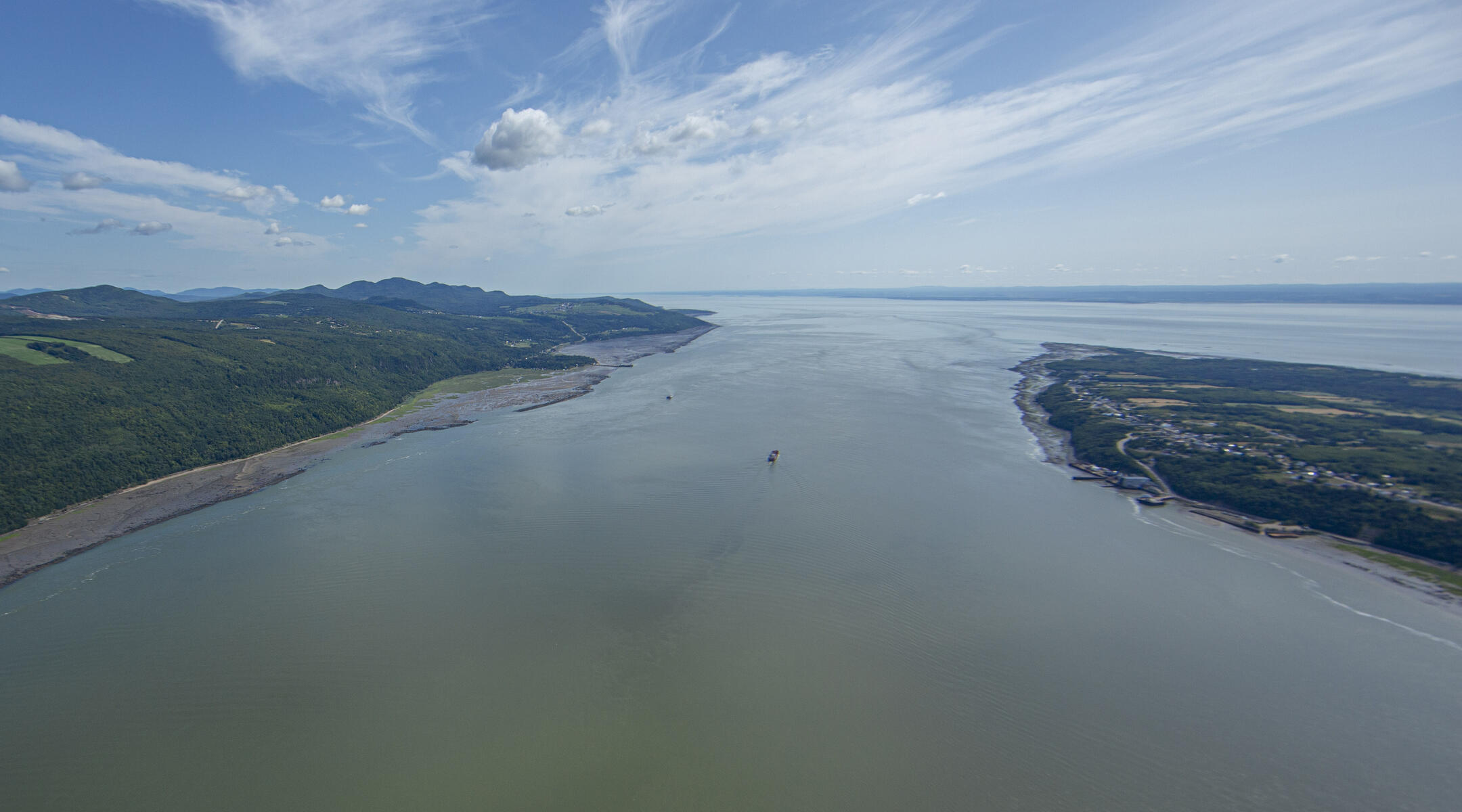 1.
La Fascine
It's not just that she has a powerful voice: she's also got a knack for choosing a fine spot to settle down! Who are we talking about? Why, Geneviève Jodoin, of course! Singer and 2019 winner of the La Voix reality TV show, she settled down here a few years back, filling the island air with her incredible, emotionally expressive voice, and bringing three new little marsouins into the world. La Fascine is a fantastic venture: a guesthouse where you can hear and see music while you sit down to a plate piled high with a tasty meal. You can eat here, you can drink here, you can stay here (depending on what you need, it's a guesthouse, a motel, or a downright huge rental home) but above all, you'll be entertained by a full and audacious, varied, and always welcoming program of music! This year, for the first time, the stage can be found in a renovated barn and audience space on the property that promises the perfect rustic-cool vibe to make those beatiful summer evenings on the Isle last!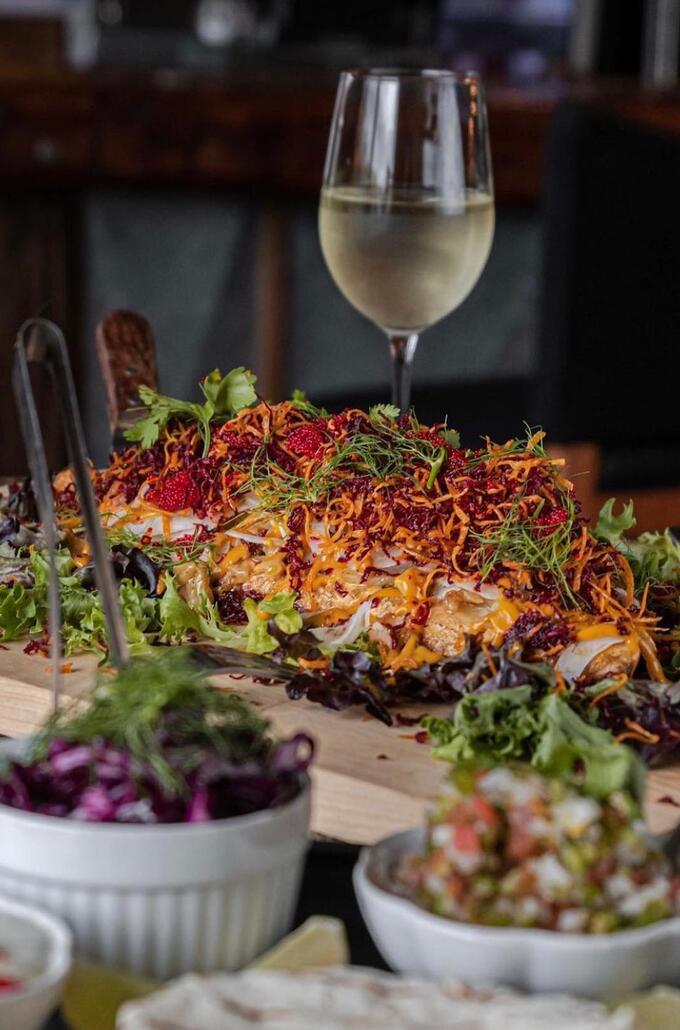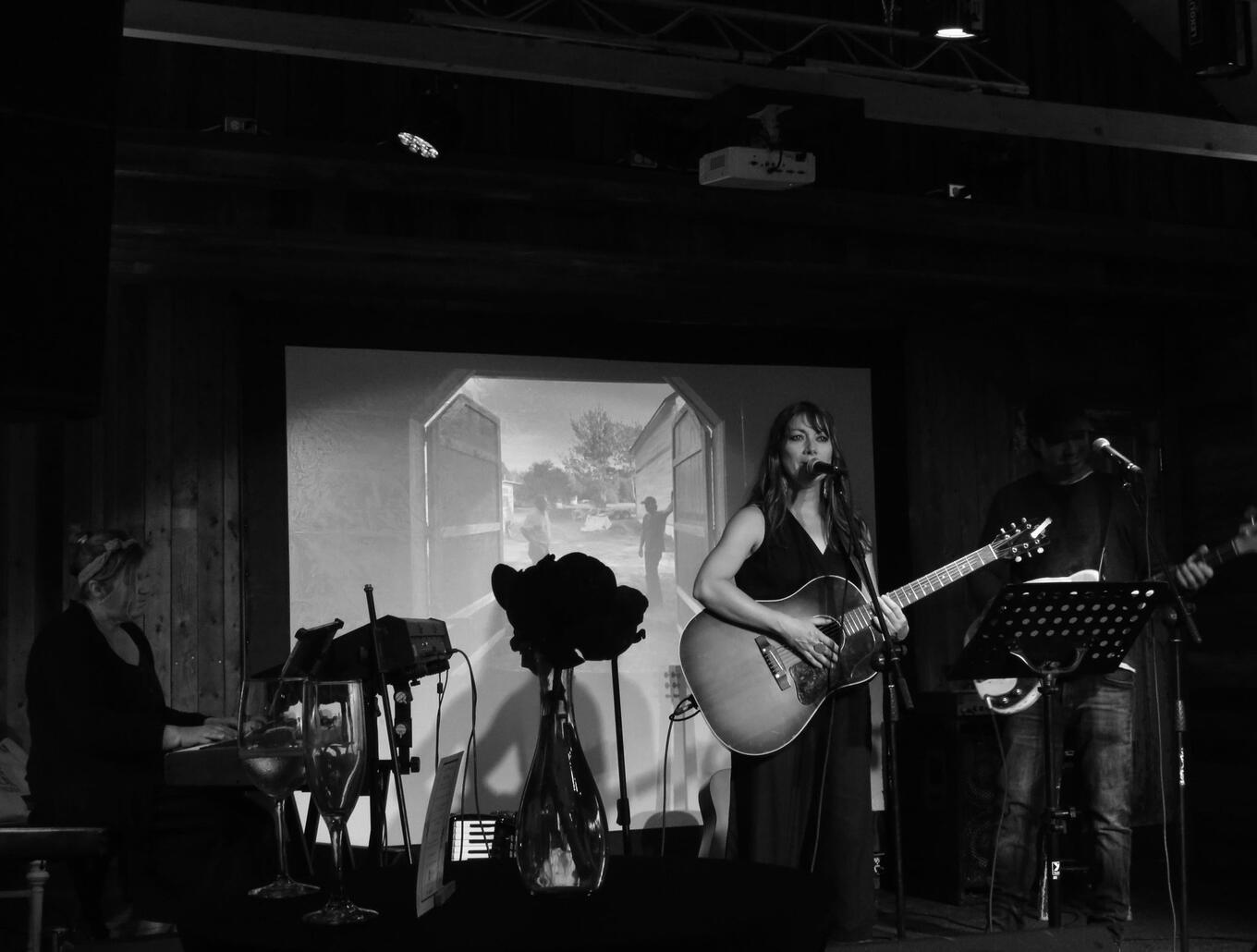 2.
Boulangerie Bouchard bakery
As owner Noëlle-Ange Harvey says, so aptly: "A bakery is an anchor, a landmark!" And it's very true: you can't find yourself on the island, even just for the day, without stopping to visit this business so rooted in its community, its history, and its flavours. Maybe you don't know it yet, but the island has a strong identity, even with respect to its food! First, there's the freshness of the island-milled flour the bakery uses. Sure, there are the local Charlevoix producers… But beyond that, people come here for the Isle's original specialty: the pâtés croches! Here, nothing gets done "the way everybody else does it," not even the meat patties, which are folded over, turnover style! Get your fill, whether frozen or fresh, with pork, veal, vegetarian, then taste the pets de soeurs (brown-sugar pastry rolls, traditionally prepared using left over pie crust), good fresh bread, buns, muffins, cookies. You'll leave here with your stomach (and arms) full as if you'd just visited your favourite grandma!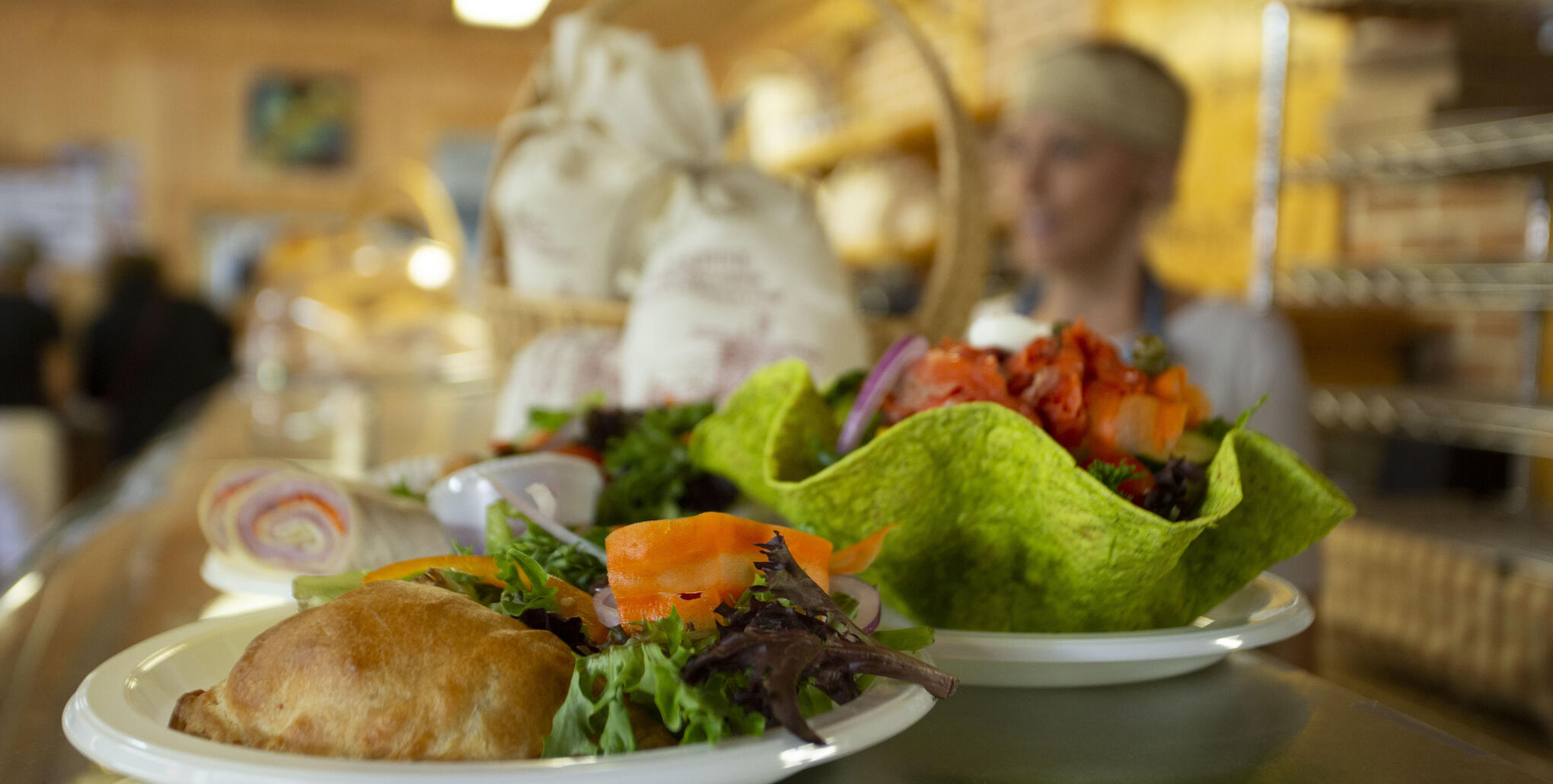 3.
Charlotte studio and shop
Time for a bit of shopping! In this place, you'll feel like you're uncovering unique second-hand treasures. Even though the items are fresh from the studio, they have that little something extra: a soul. You can take this island soul back home with you. Pascale Perron gives it life, being a designer who likes to play with ideas and designs that evoke the pace of life on this island she's spent her whole life on. Tradition and modernity create a happy hodge-podge, as does leather, colourful top-stitching, on denim or dark cotton. Discover whale or sailboat pillows, woven-fabric earrings, fleece sweatshirts for the adults or rompers for baby decorated with fish, lace dream catchers, not to mention all the wonders made by other artists, creative do-it-yourselfers, from all over Quebec that fill the shelves of this rustic store in its own little patch of woods!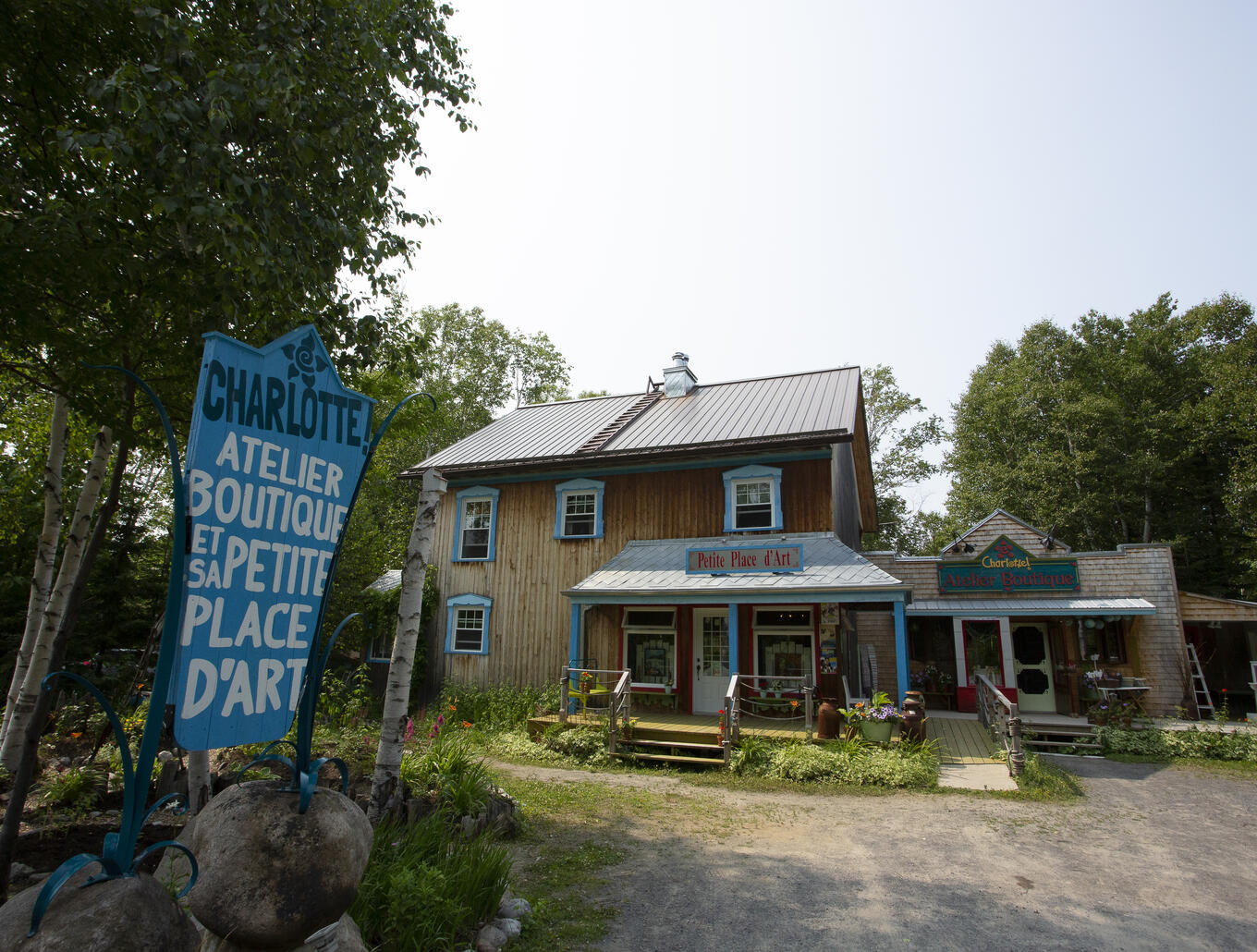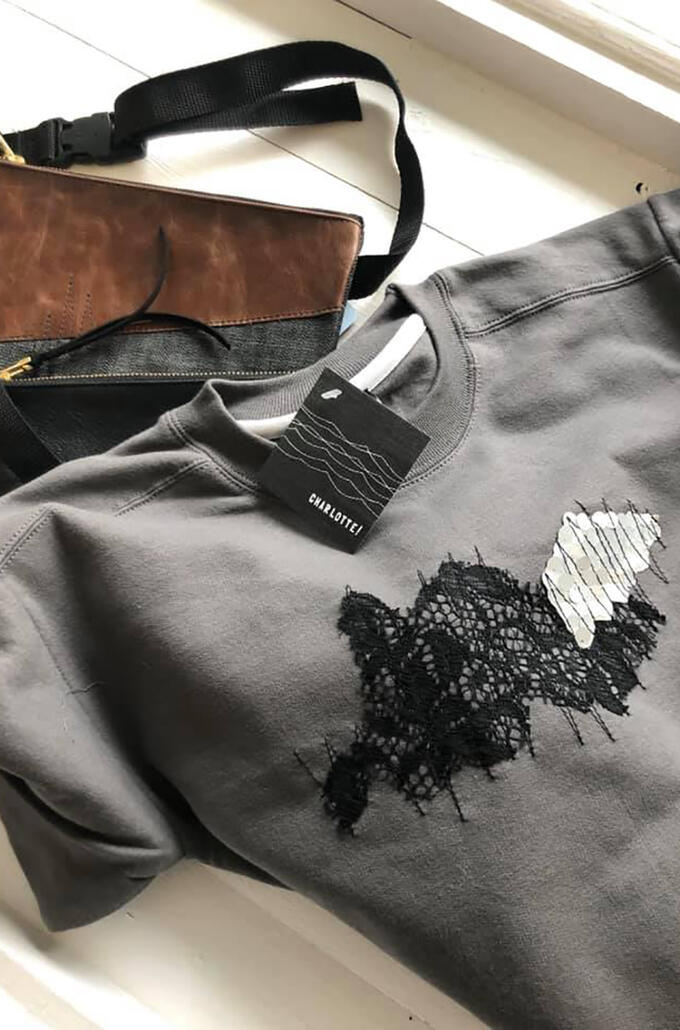 +
Want to learn more about the Isle-aux-Coudres? Put a walk on the former porpoise fishing site on your itinerary, where information panels will tell you the story of this island tradition. On the same site, you can see Caya's Rock, a rock that tells of the island's geology!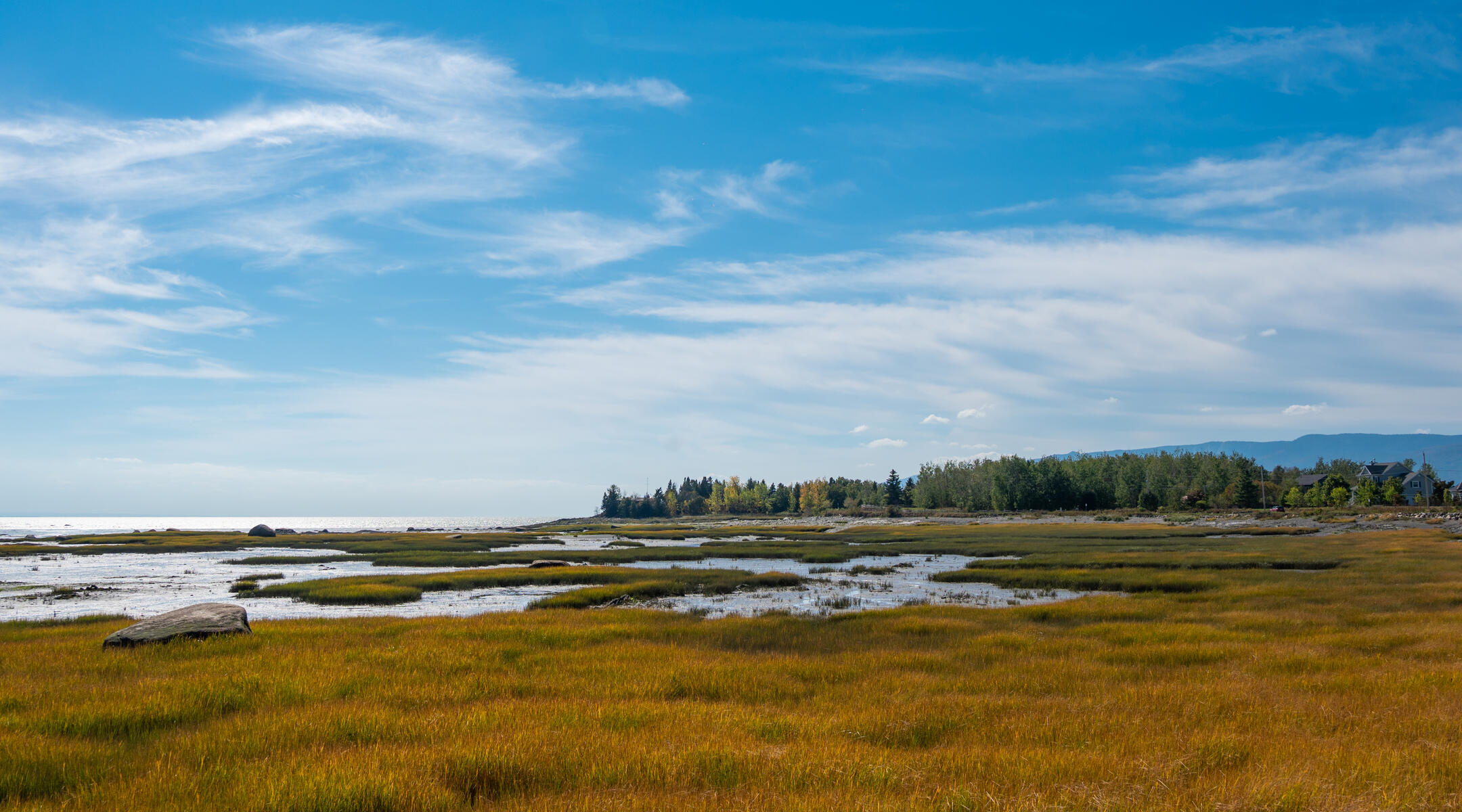 4.
The Havre Musical de l'Islet hotel
Here, it's jazz on Sundays, and playing tunes to the moon on Friday evenings, leaving room for plenty more enjoyable musical encounters on Saturday nights with guests like IMA, Marc Hervieux, Paul Daraîche and Marc Déry… Every one of these musical moments under the benevolent eye of the venue's host: Guy St-Onge, musician and orchestra conductor. And, speaking of the venue: it's an extraordinary one! The point, on the upstream end of the island, consists of rocks that crumble and break, which form an out-of-the-ordinary beach bordered by wild roses. And, in the shade of the trees can be found the grass which, in this place, serves as auditorium seating. The stage is a noble circular pavilion, upon which a grand piano sits. Here and there, benches and swings are set up. Then, there's the vivid impression of being in the middle of the river, with the smells and sounds of the sea washing over you! A little corner of paradise where you too can settle down, and make your nest, for however long you stay on the island.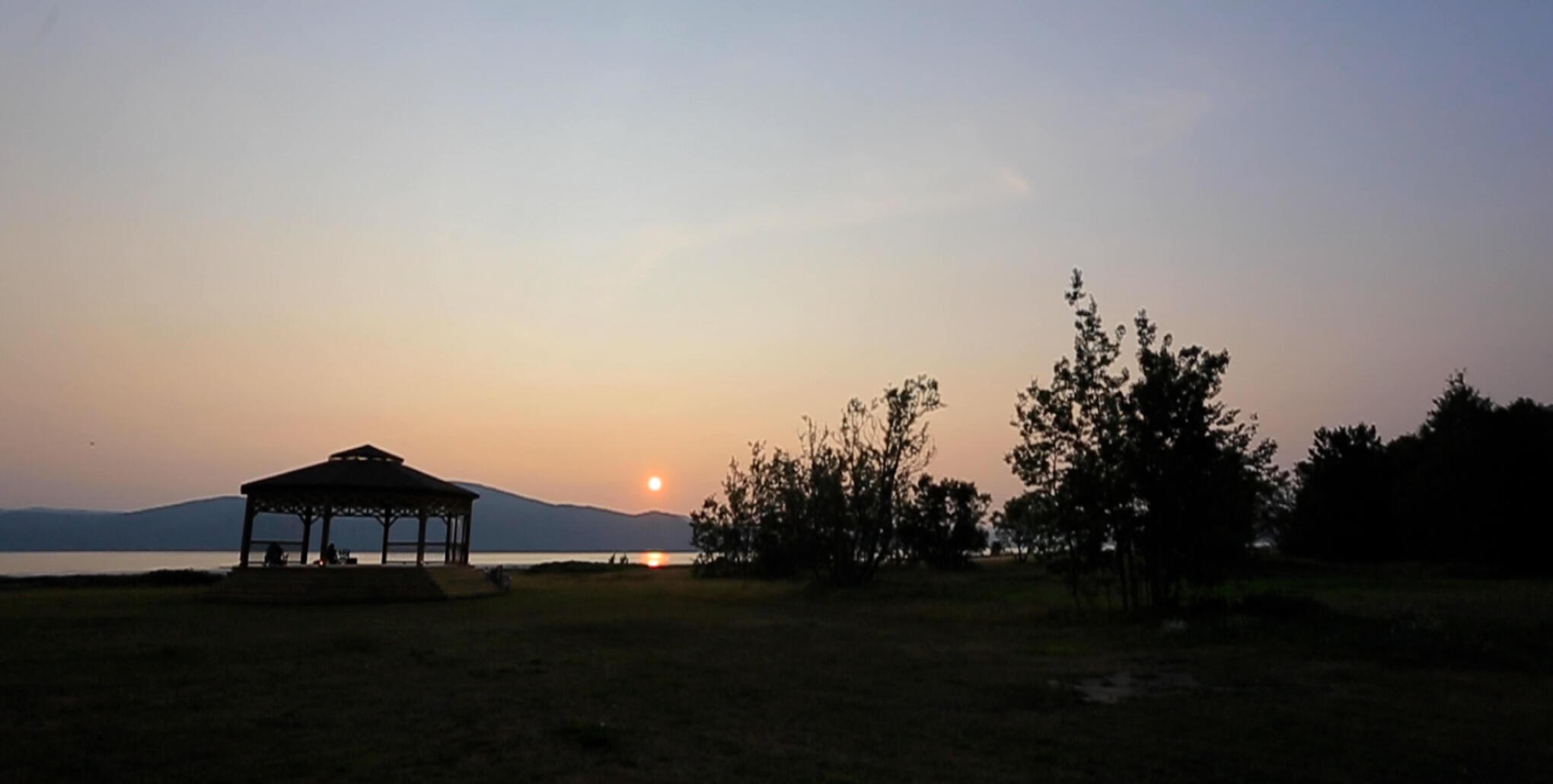 5.
Les Traverseux heritage space
The island still has so many many stories to tell: you don't yet know all of its ways, its history, nor its touch of madness; so keep your tour of the Isle moving, and visit the Espace Patrimone Les Traverseux heritage space! You'll find that islanders aren't just artists, by tradition. They also have a bit of daring in them, the adventurous side you'd find in mariners of old! Beyond the schooners and their history, in winters past, the people of this island made the crossing in ice canoes when necessary. Oh yes, they did! There are still those who, even today, will brave the icy water, sheets of see-through ice, the spotty snow cover… Discover the history of this sport from its earliest form to its current state in this museum space where you can even, when the season's right, try the sport and where, in much more comfortable surroundings, we provide you with a full table: brunch, pâtés croches, and other goodies in a setting full of wooden hulls and wooden watercraft frames!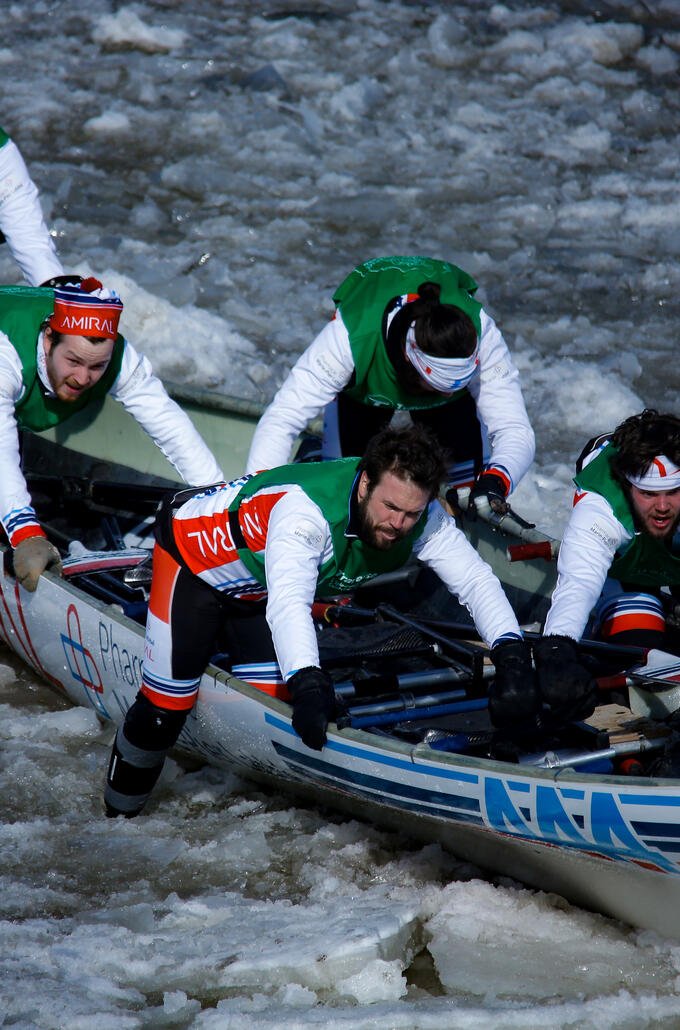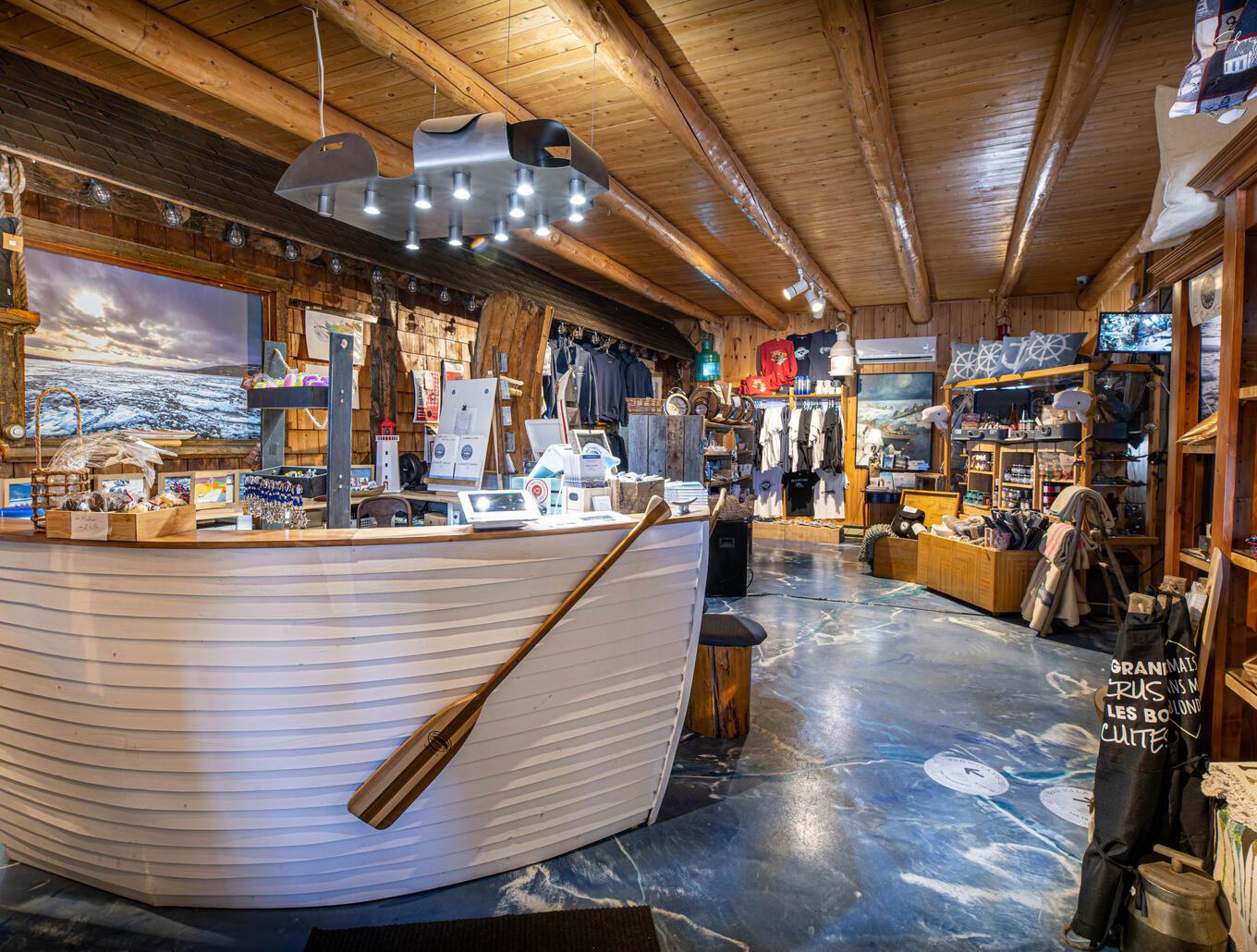 6.
Les Moulins de L'isle-aux-Coudres mills
"Ton moulin, ton moulin bat trop vite, ton moulin, ton moulin bat trop fort": the French nursery rhyme comes to life before your very eyes when you stop at this must-visit spot on the Isle-aux-Coudres. Except here, the miller's not asleep and the mill keeps on turning, calmly and at a constant speed. The water-powered mill and its huge wheel, as well as the vanes of the windmill are still working and still grinding grain in order to demonstrate an old occupation essential to human beings; bread was the basis of European peoples' diets for such a long time! The island's flour, both the wheat flour and its famous buckwheat flour, are still produced and bagged on-site, for visitors to enjoy. The miller's house, exhibits, shop, there's lots to see and learn about, while you take in the charm of this bucolic, nearly 200-year-old site.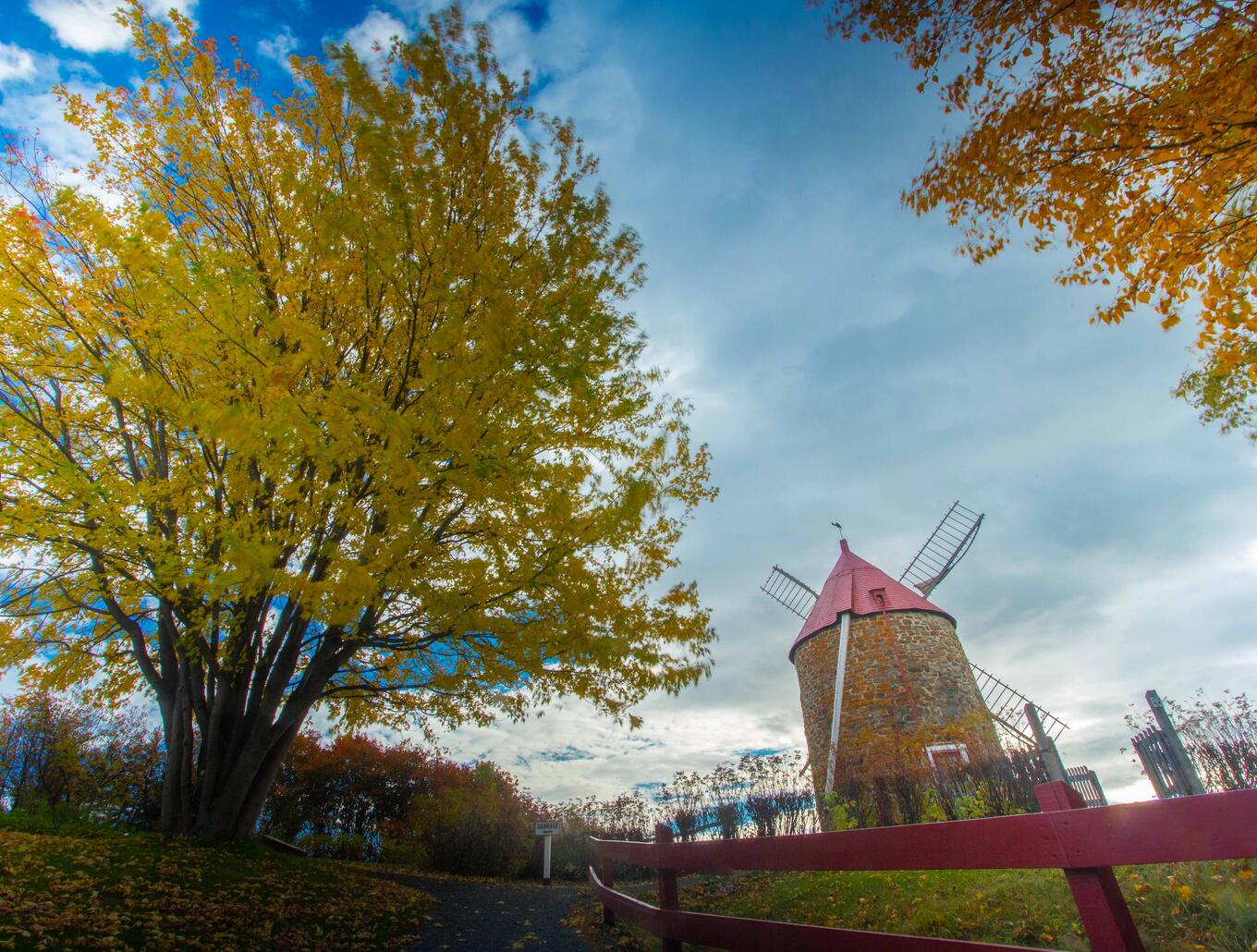 7.
Suroit Aventures adventures
Catherine Dufour and Yann Normand are a young couple who figured out how to make a living from their hobby and their favourite sport, sharing their knowledge of the wind and waves that surround and sweep over the island's shores with us! You'll see them playing around on the Isle's shores, feet properly planted on their boards, and their hands firmly holding their sail's grip. Being kitesurfers, they travelled for this sport that Catherine used to practice professionally before they settled down and started a kitesurfing, paddleboard, and yoga school. Check your weather forecast, the wind, and the tide tables. Ready? Set? Go for adventure! Will you have the courage to go for broke, or will you spend your time at Suroit Aventures browsing their line of sports clothing?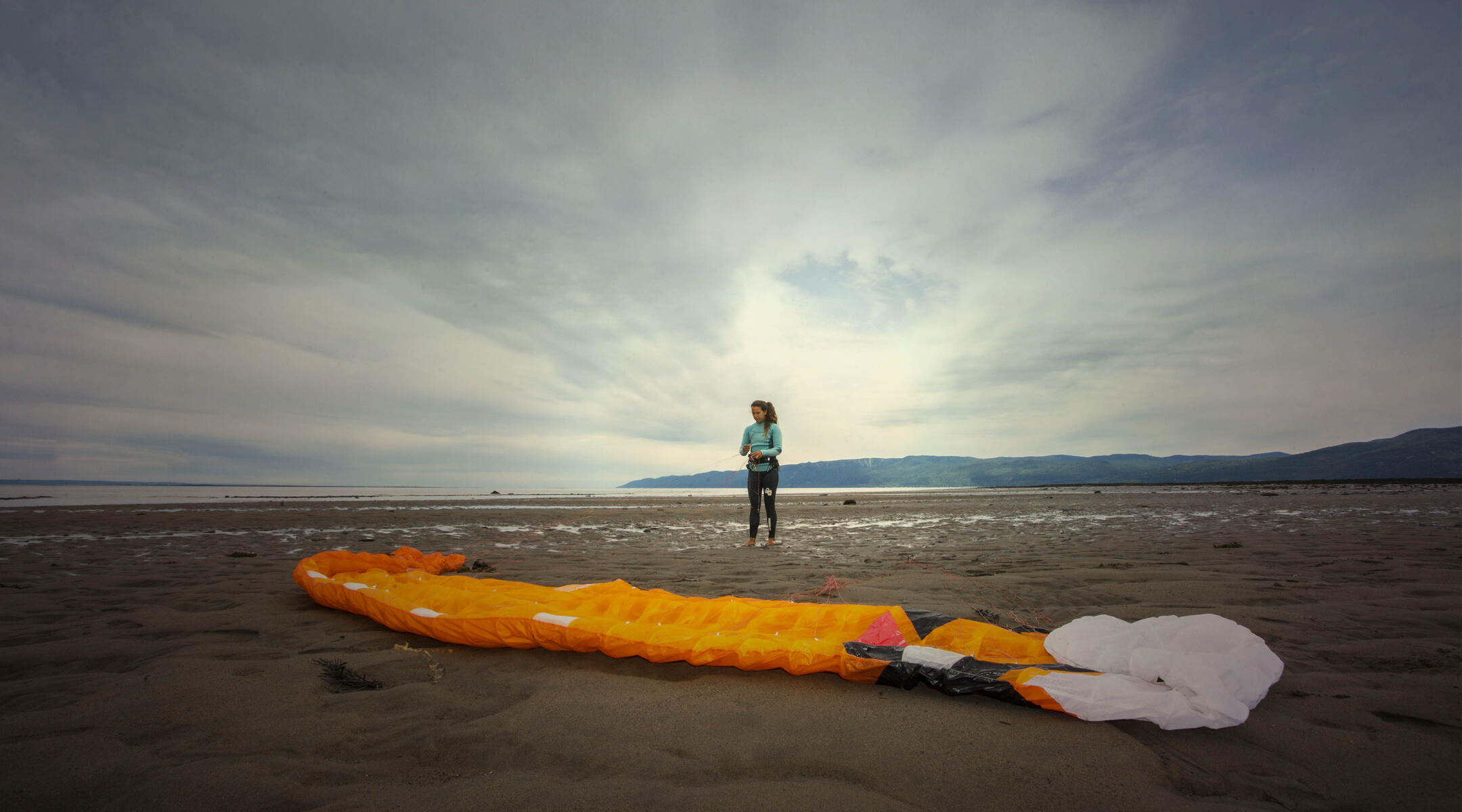 8.
Hôtel Cap-Aux-Pierres
Reserve your very own dormer window on the St. Lawrence in this spacious hotel in a classic, and very imposing Canadian field-stone house. Together with the main building, the available outdoor units create a complex of 98 rooms in the Ôrigine artisans hôteliers cooperative, occupying the entire point on the downstream end of the island. As for the dining room, the table is set for fine dining and gourmet food strongly inspired by French cuisine as well as the use of Charlevoix's own local foods. On the patio and in the La Lucarne bar, the menu is more family-friendly and casual. You'll find everything you need on-site to relax and have fun: outdoor and indoor pools, massage, golf practice range, mini-golf, tennis court, pool table, outdoor games, bike rental, and two walking trails in the woods. Simply put, it's a nice little harbour in which to drop anchor for a few days while on the island!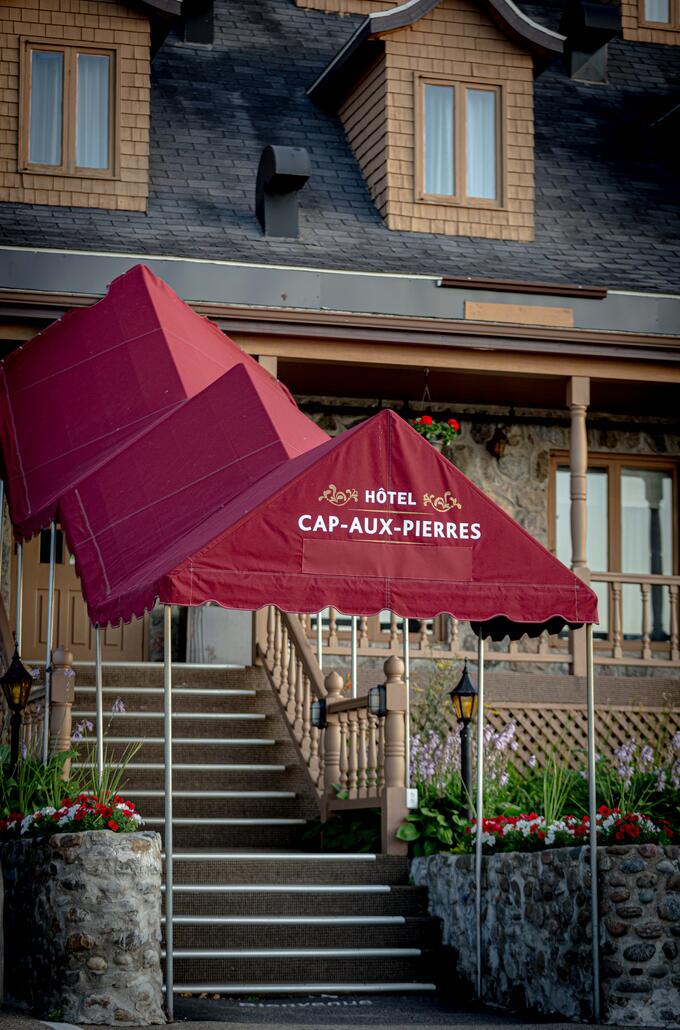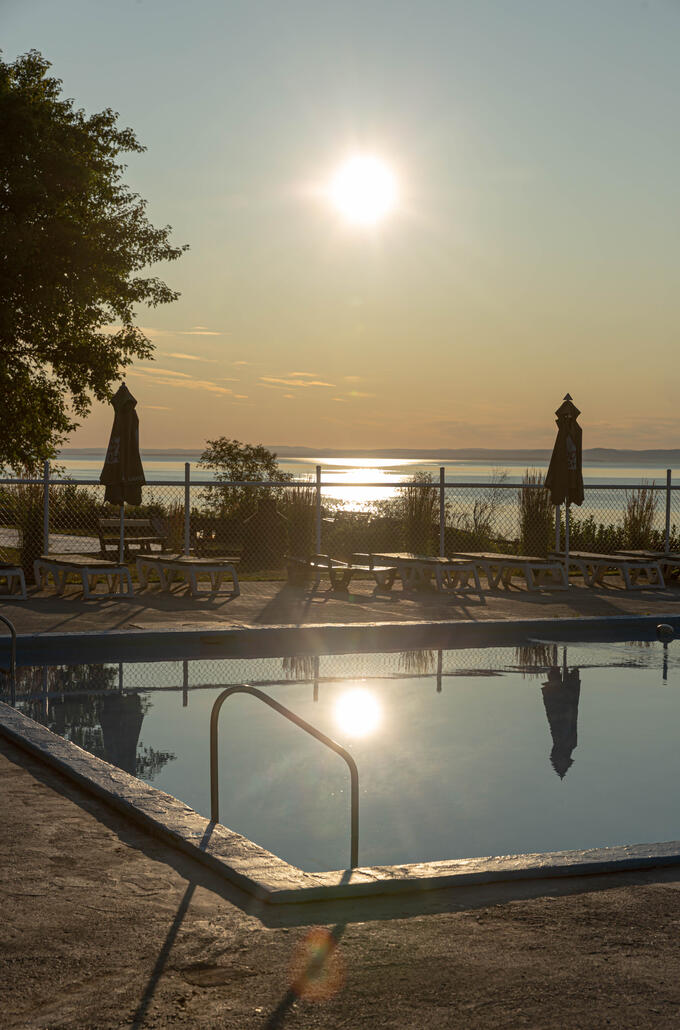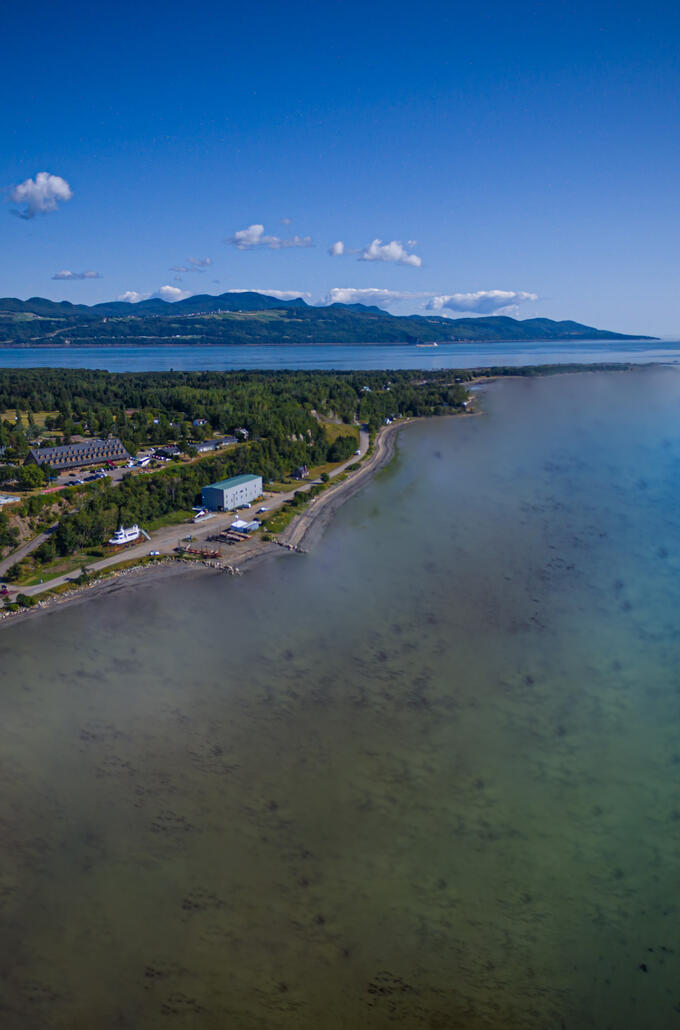 9.
Les Productions Euphorie
And this year, the Hôtel Cap-Aux-Pierres hotel acts as a theatre space, hosting the play mounted to mark the 16th anniversary of the Productions Euphorie theatre troupe. Young island actors and directors who've grown up through the years and through all the plays they staged, the energetic bunch that is Productions Euphories, true to form, promises Broadway-tinged summer theatre, with its adaptation of the musical comedy Pied de Poule!  Check the schedule of performance dates for an evening of entertainment, music, and choreography, through which the talent and originality unique to our Marsouins, shines!

+
Are you a fan of legends? Upon your travels, you'll come across the famous "Crying Rock" (La Roche Pleureuse), a stone over which water eerily trickles. The phenomenon is explained by a legend in which a young woman, awaiting the return of her sea-going fiancé cried out all of her tears, whereupon she turned to stone, and kept watch for the return of her beloved on that very spot.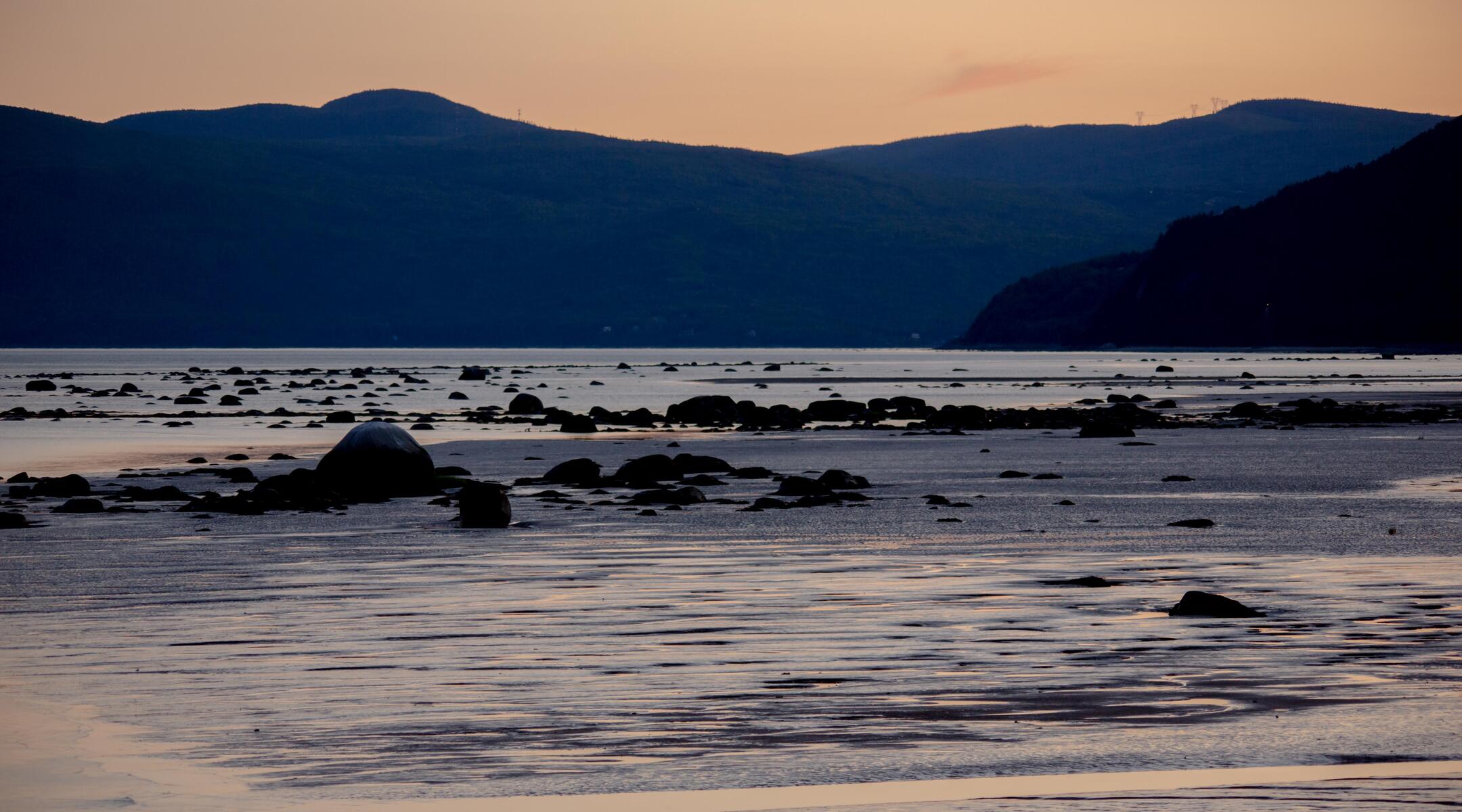 10.
The Pointe du Bout d'En Bas
The Isle-aux-Coudres' northeast point has its own affectionate name around here: the Pointe du Bout d'En Bas. By bout d'en bas and bout d'en haut islanders are referring to going upstream against or downstream with the current, being downriver or upriver, in this colourful, traditional, and regional expression. This point being sparsely inhabited, it has a nice rocky coastline, where many marine birds make their nests. But, what makes the area even more unique and worth taking a look at is the famous Sainte-Vierge du bout d'en bas: a statue of Notre-Dame de l'Assomption [Our Lady of the Assumption] erected in 1960 by Horace Pedneault, a promise he made in order to heal his son, who was in ill health. The small, sacred statue, set on a circular base which is now crumbling into the rock and becoming part of the island's landscape, is a picture you can put in your photo album of the trip!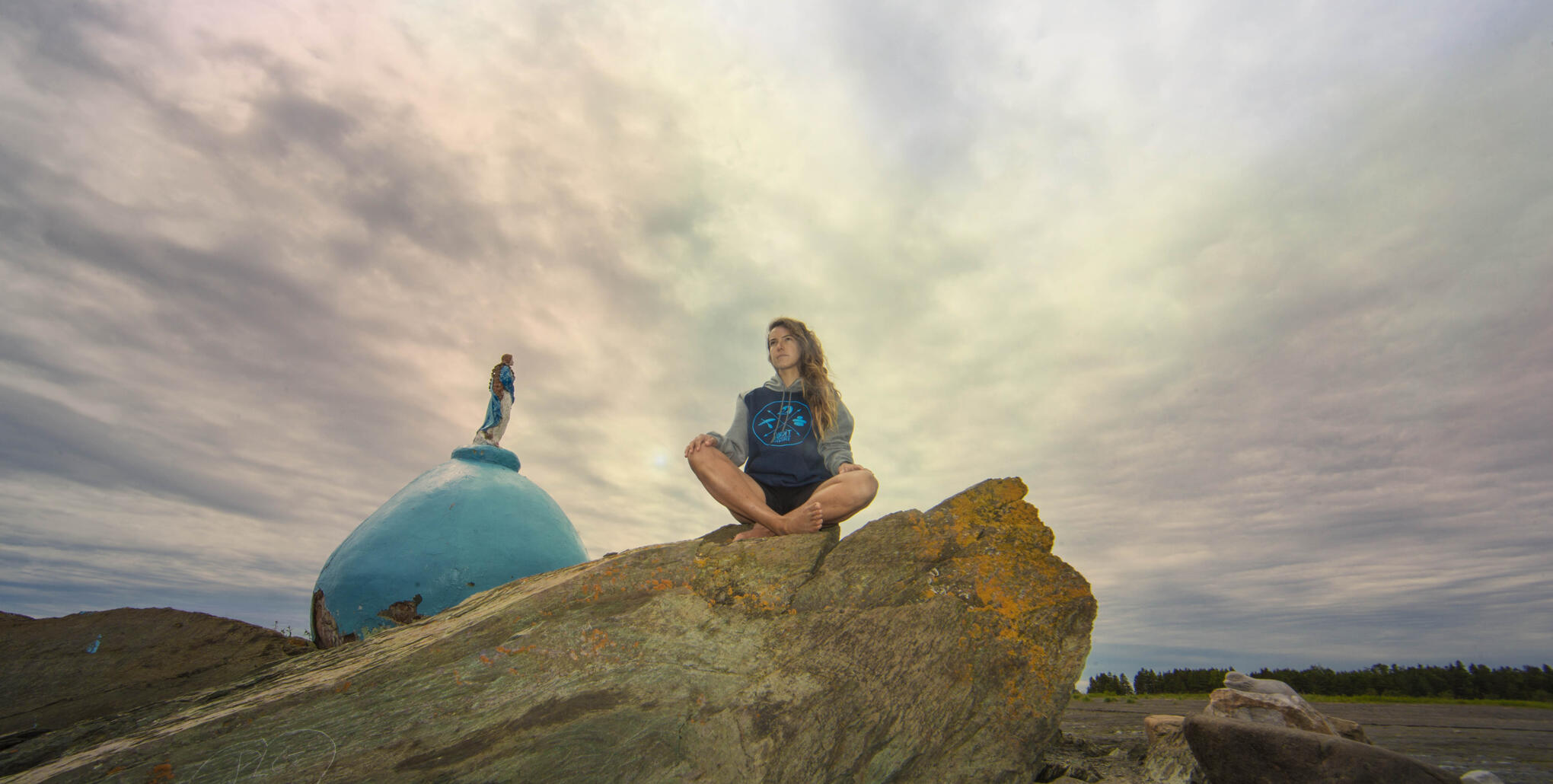 11.
Hotel du Capitaine
Welcome to Caroline's. She is an authentic Marsouine (islander), the daughter of Captain Desbiens in whose honour the hotel is named. But she is also a poet, story-teller, singer, and even a Member of Parliament for the riding! Here, you'll get straight talk, delivered in the local patois! You'll hear the stories, still told today, of the greats who used to spend time at the inn, way back when. There's spontaneous singing, sitting down together for a simple meal among friends, under Captain Gérald's huge captain's wheel. And we take our time! The time to taste island life at its own pace. Time to swim in the pool's salt water! Time to leave the daily grind behind, and stay a while. The Hotel du Capitaine team awaits you in a country-style setting where wood accents prevail and the maritime atmosphere brings smiles to faces!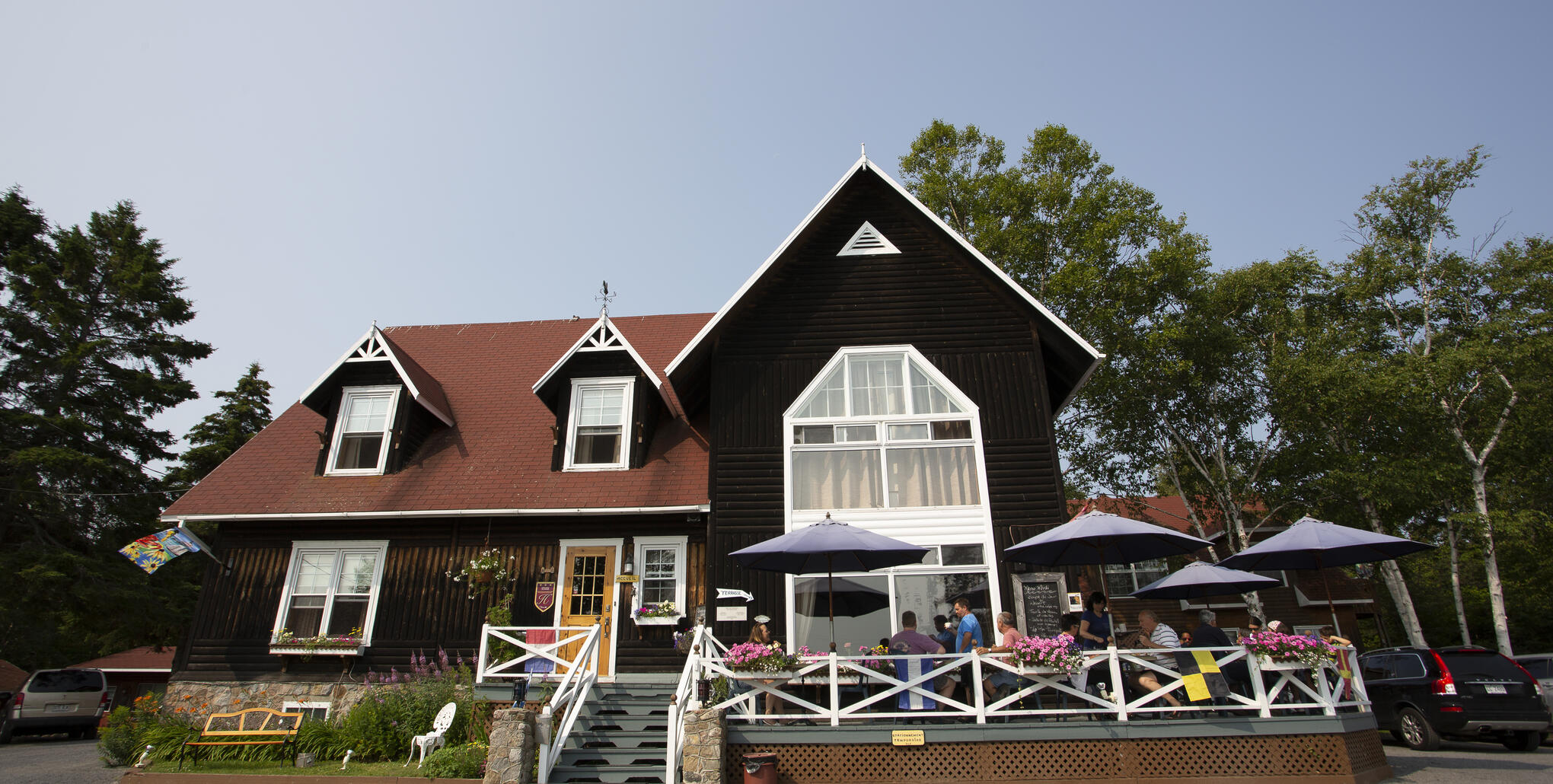 12.
Cidrerie et Vergers Pedneault cidery and orchards
Above all, Cidrerie et Vergers Pedneault is a place full of memories, a family orchard. A big family! Planted in 1918 by the founder and his brothers, the family of 15 children included Michel, who has now taken over the family business with his nephew, Éric Desgagnés. The apple trees, some of which are over 100 years old, as well as the orchard's pear and plum trees, provide the fruit that is the basis for alcoholic products, like the ciders and mistelles found in the region's best restaurants. Discover them, taste them, and take the home with you! The Pedneault family also owns some of the island's other fine establishments: the Le Corylus restaurant, and the Aux Fruits du Biscuitier cookie shop.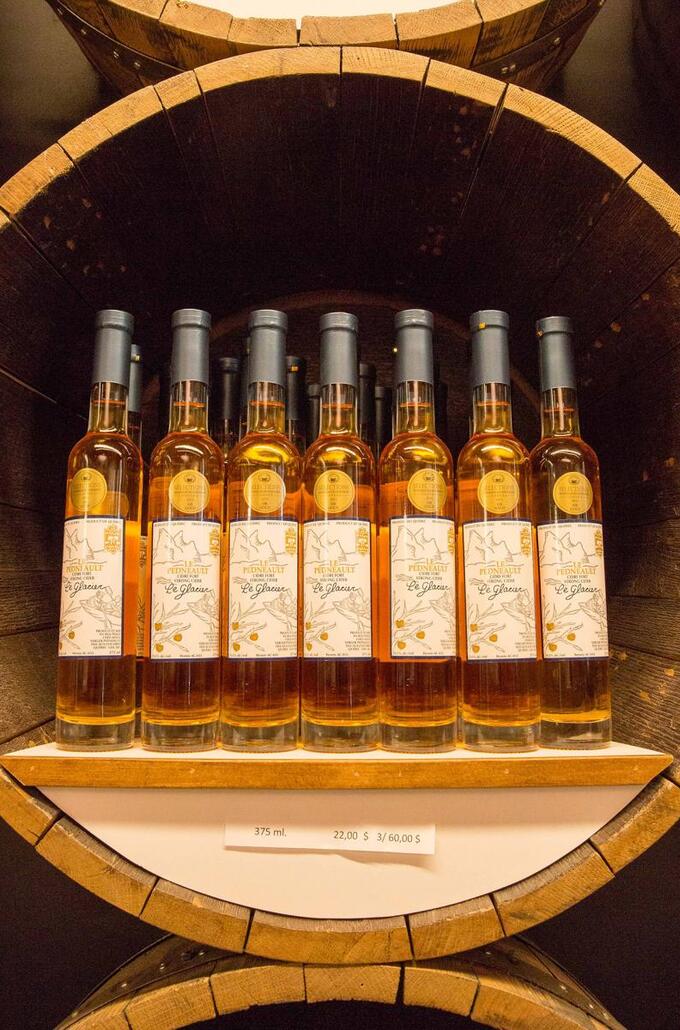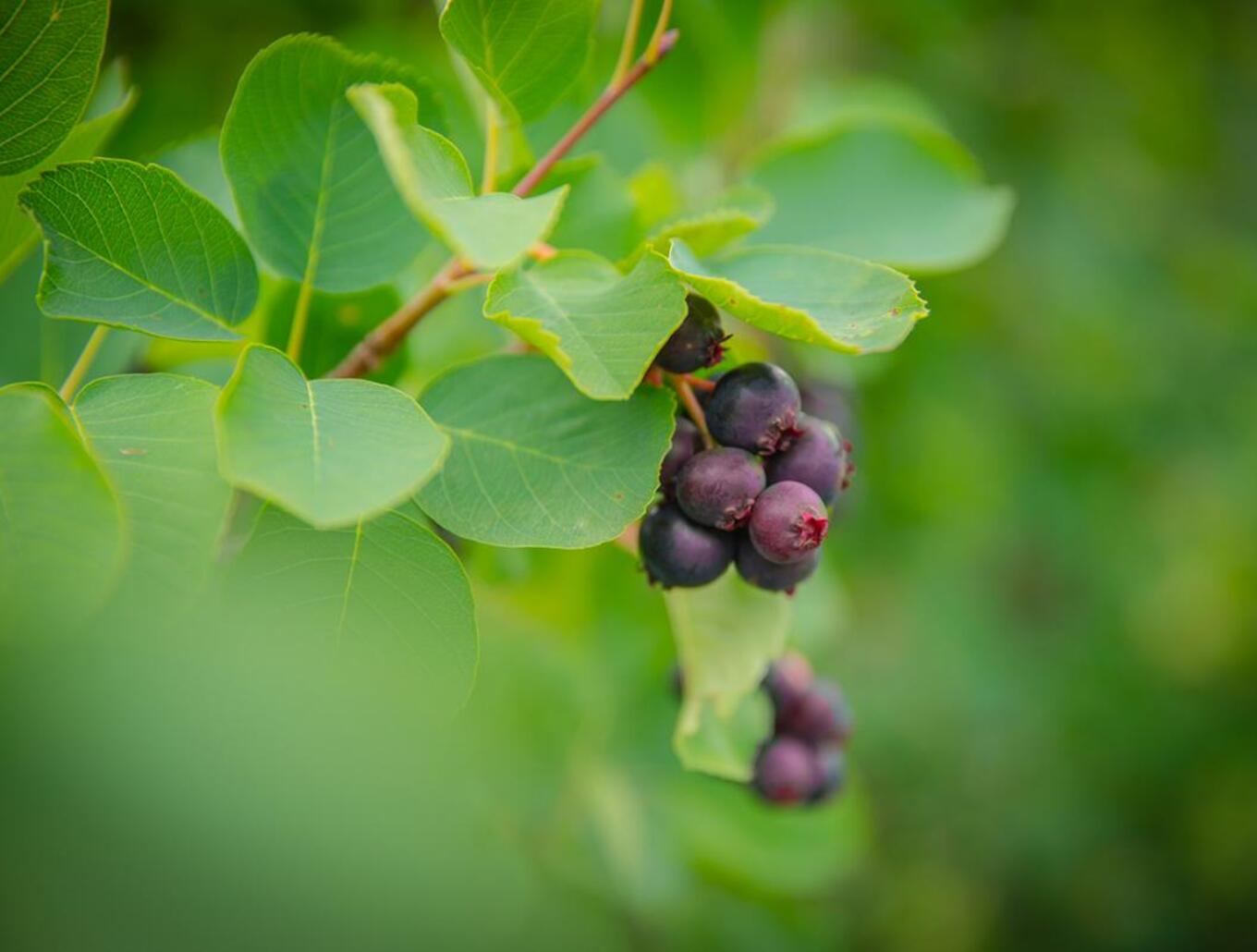 13.
La Fabrique de l'Isle
Welcome to cool island life, full of stories and maritime influences from two cousins and friends, Carol-Anne Pedneault (illustrator whose work you'll find all across the island) and Pascale Perron, designer (yup, the same one whose creations you'll find at Charlotte Atelier-Boutique)! In this former rectory (to the left as you come onto the island) you'll find everything pleasing to the eye, pleasing to the palate, and good for your body. The air is scented with good coffee, and the garden comes alive on in-season Sundays for the crafter's market. Bottom line, it's a great place to stop, have a bite to eat, and relax with (or without!) the whole family, and a good place to come if you want to find local favourites made with love, in the shops.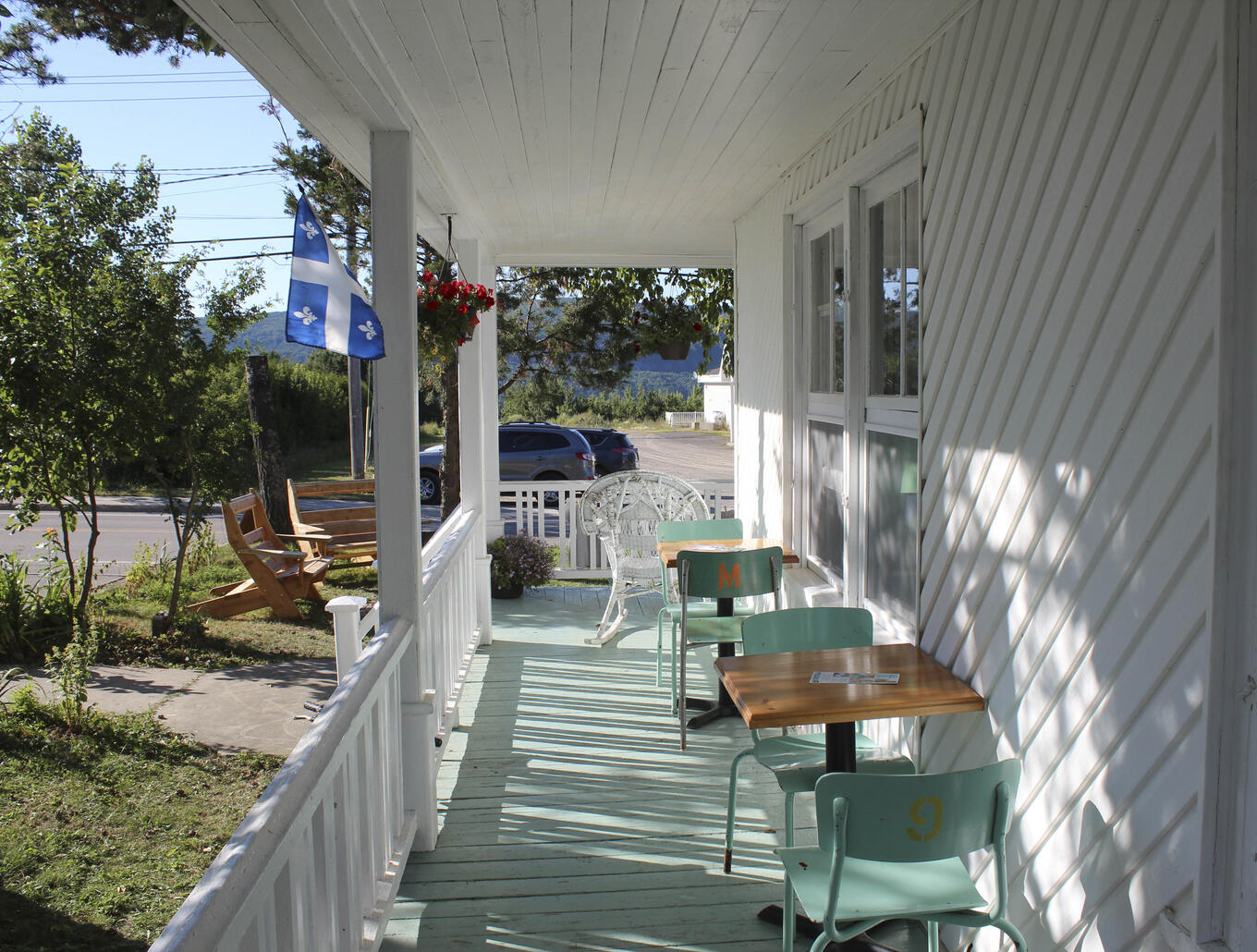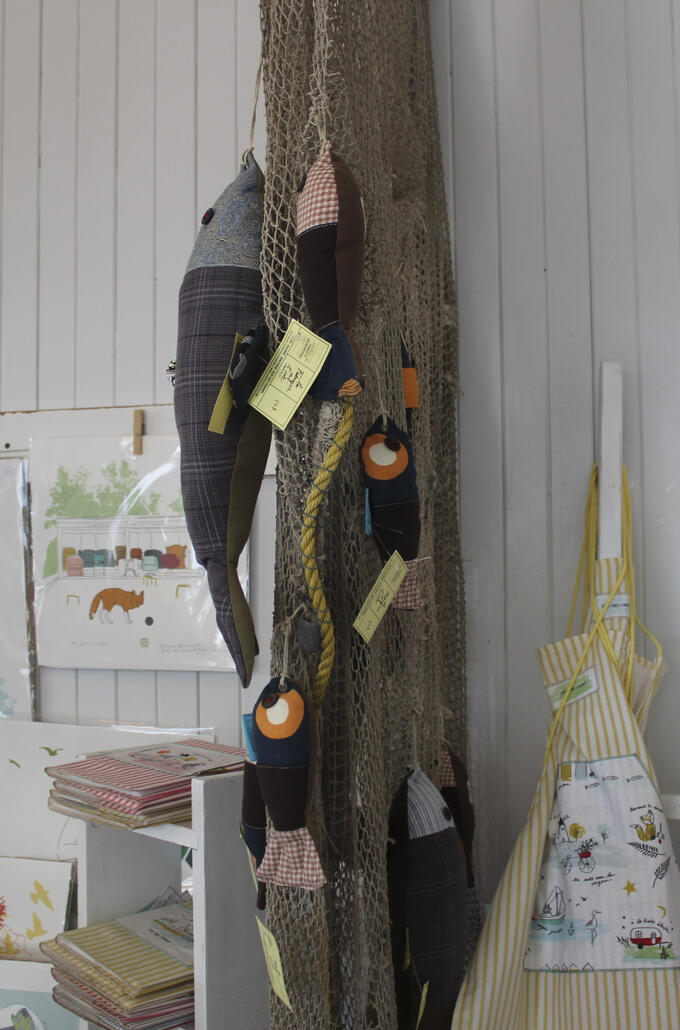 14.
Party on the Island
As you'll have seen by the number of establishments that include stages on our list: the Isle-aux-Coudres is the place to be for music! Besides the programming at the island's various performing spaces, there are the festivals that liven things up and get things rocking! The Festival Folklore Isle-Aux-Coudres presents rotating performances from groups that play traditional Québecois music. This is where you'll want to be, but not to pull up a chair and sit quietly; get ready to dance and swing a good while! Incidentally, the Isle even has its own folk group: Les Arthur à Noël! A great band of original islanders, or islanders by adoption and friends who gather around Pierre Dufour (known as Popo) are joined as often as possible by Geneviève Jodoin, and many other musicians you may have already seen on your travels across the island! On the menu for island events, the brand-new Festival JeunArtiste is attracting attention this summer with promises to showcase the next generation of the Isle's performers!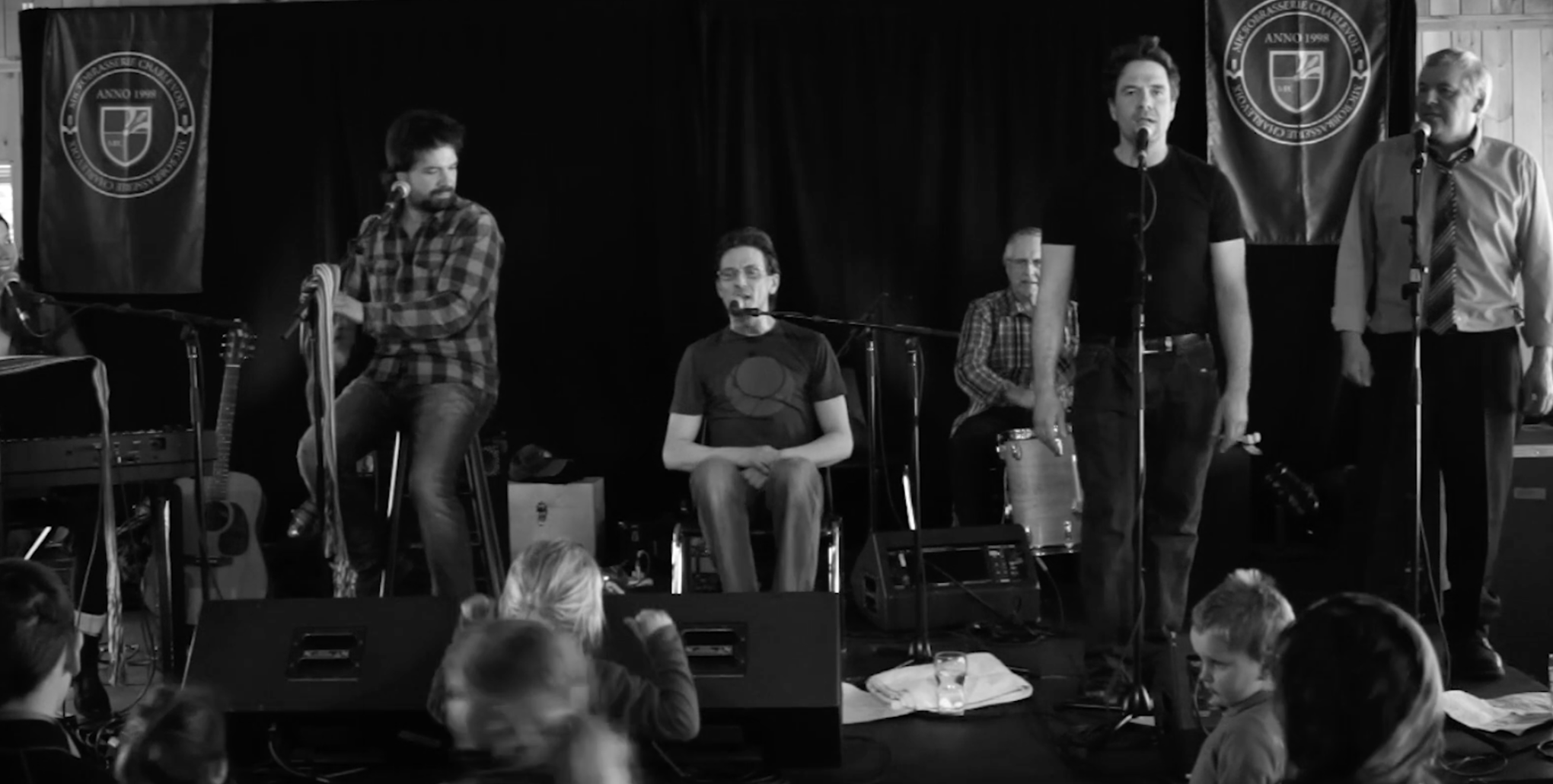 Feel a little bit like an islander yourself now, after all that?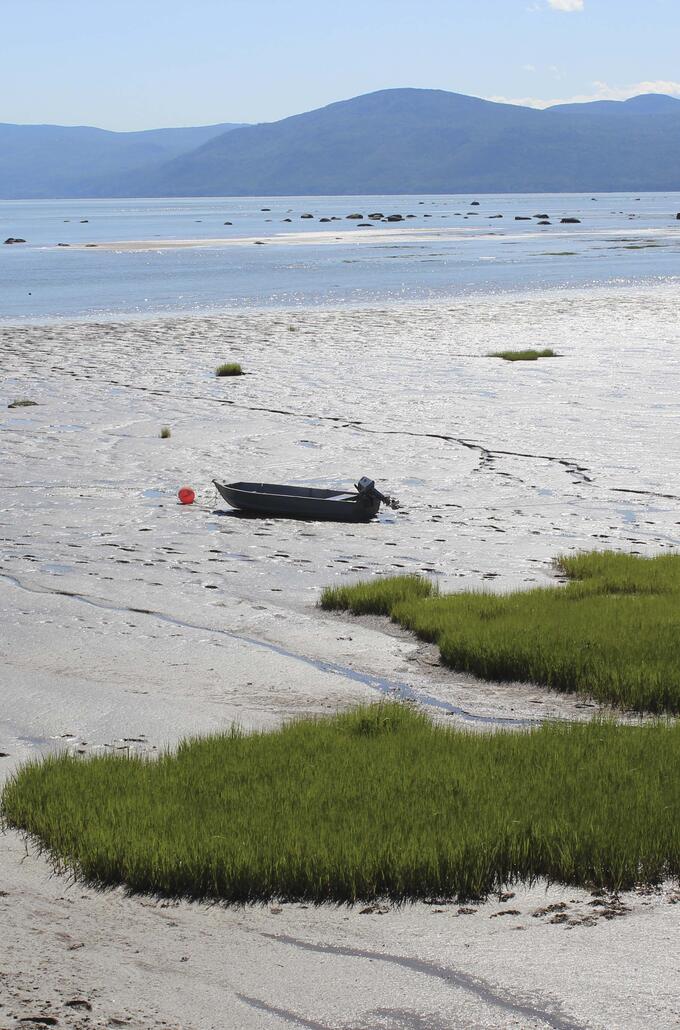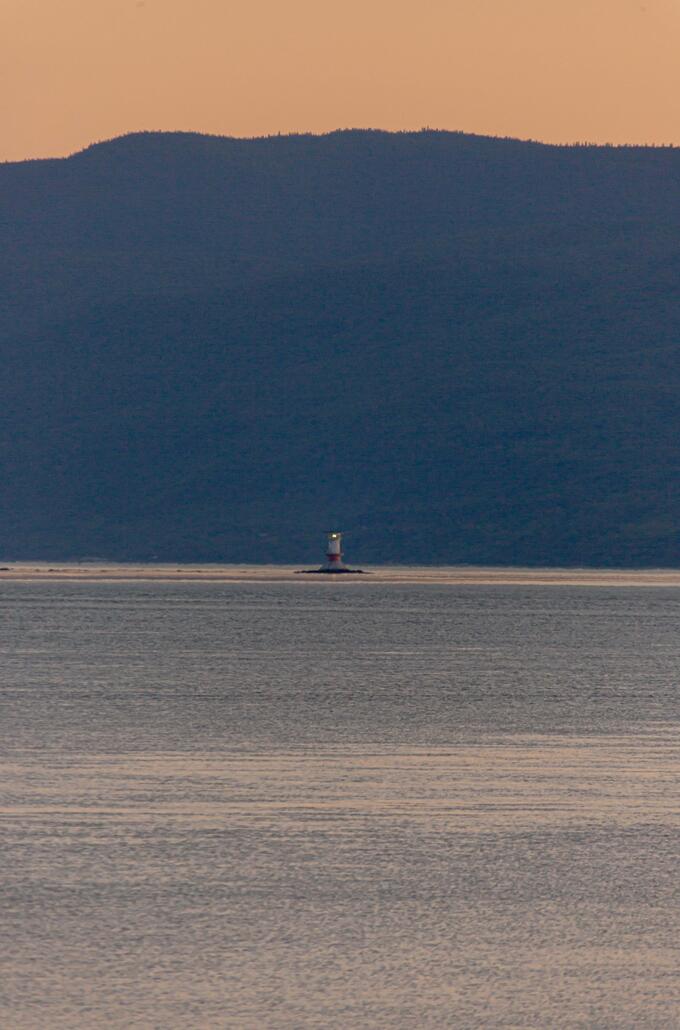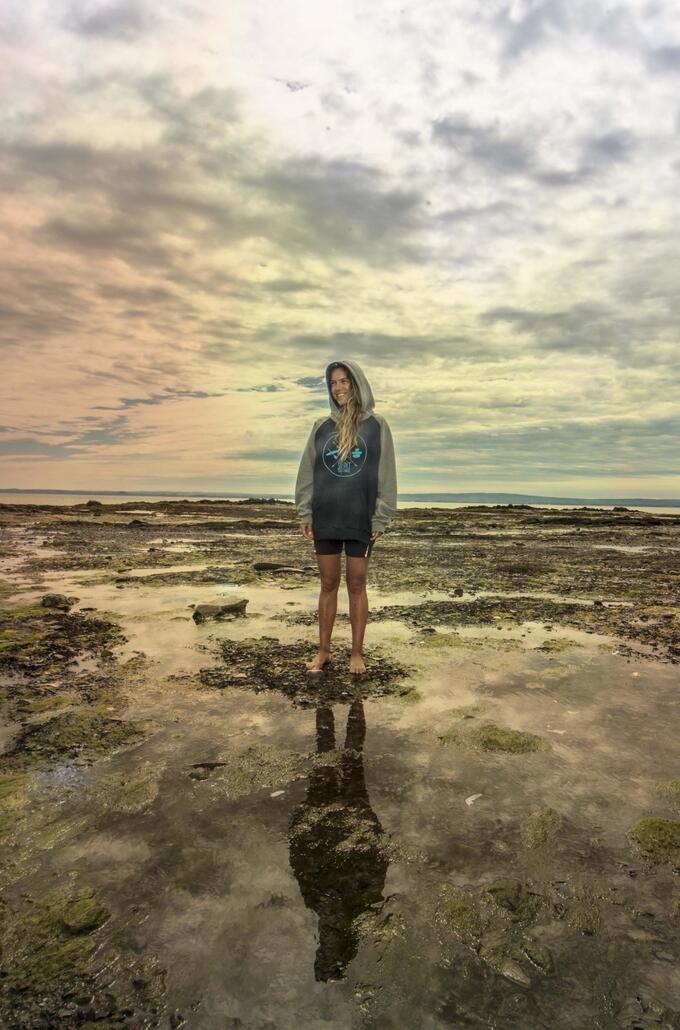 Le tour de l'Isle en vidéo:
Le tour de l'Isle-aux-Coudres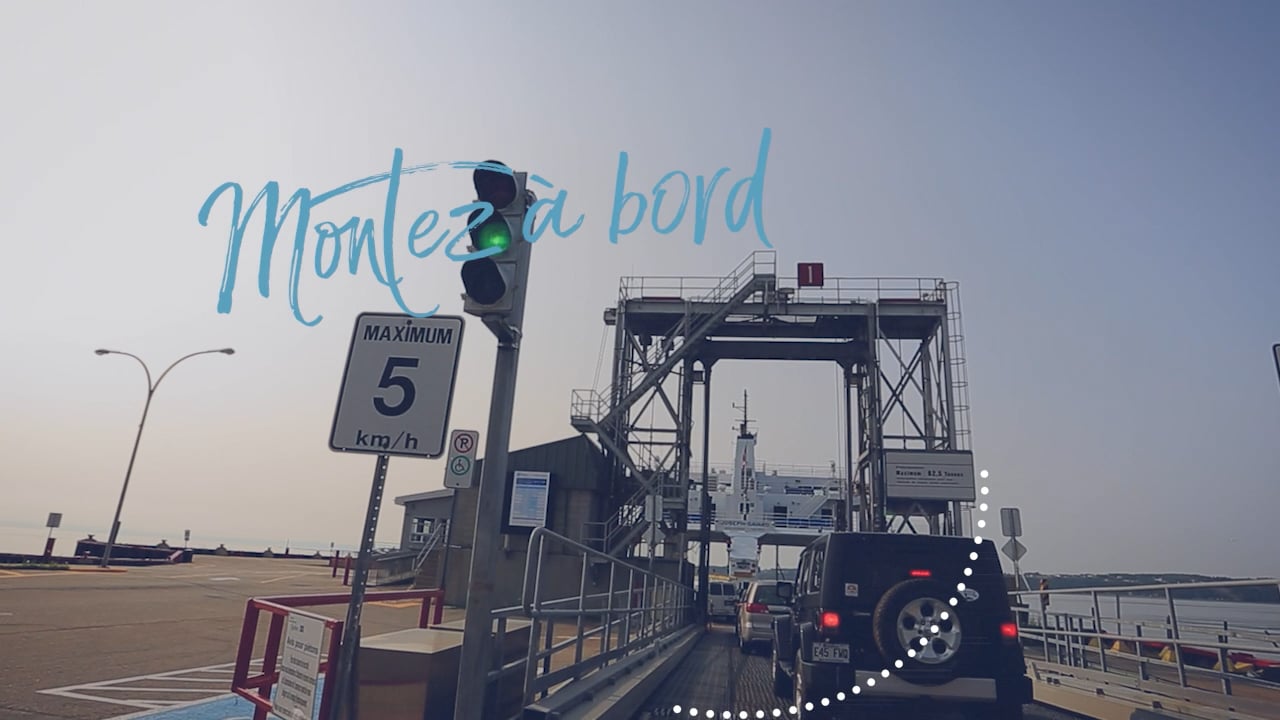 Text
Camille Dufour Truchon, Mark Lindenberg (translation)
Video
Patrice Gagnon (Caméra), Camille Dufour Truchon (Montage)
Photos
Patrice Gagnon, Sylvain Foster, Emmy Lapointe (EM photographie Culinaire), Christophe Dandurand, Courtoisie