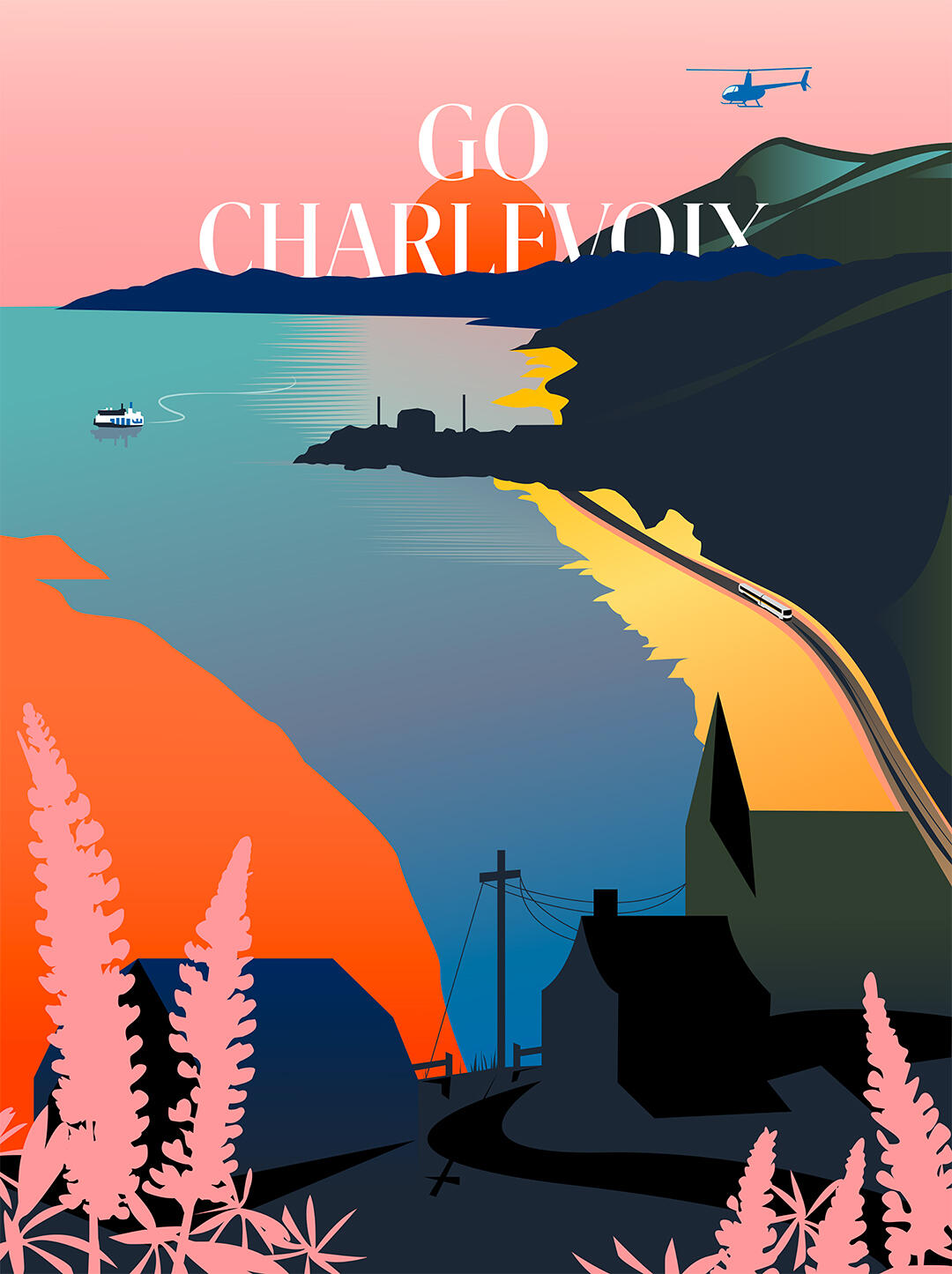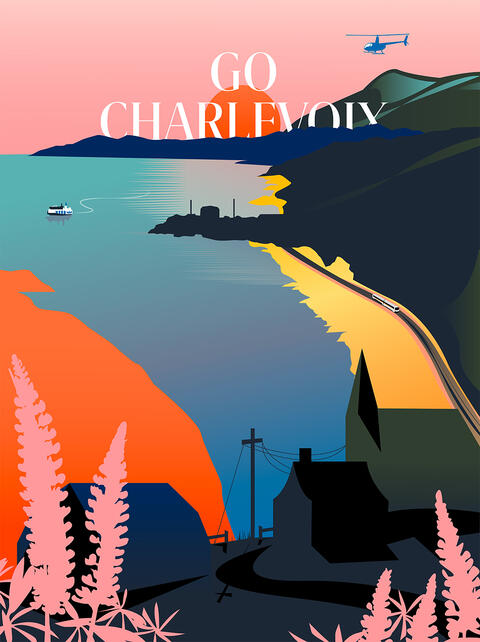 Go Charlevoix takes shape…
…in the "Neo-Retro illustration" style: the trend that's sweeping Europe's tourism industry!
Neo-Retro illustration
London, Corsica, Amsterdam, Mont-Blanc, the Amalfi Coast, and Marseilles: in the last few years, each of these destination spots have had their posters and postcards illustrated in the neo-retro style. Bringing a cool illustration back home with you has become a "must" for the self-respecting traveller who passes up the "Made in Asia" souvenirs. The phenomenon is so big that it's making the news with our friends at TF1 INFO in France. Over here, Go Charlevoix has had some fun creating an illustration of the same sort for this area, because we've got no reason to be jealous of Europe's landscapes!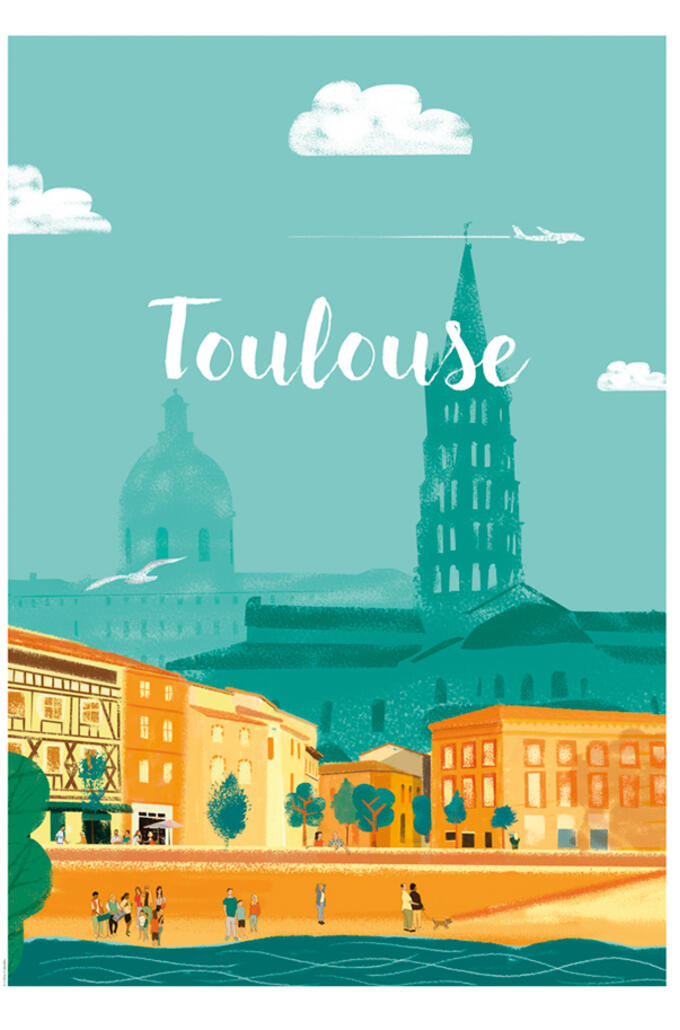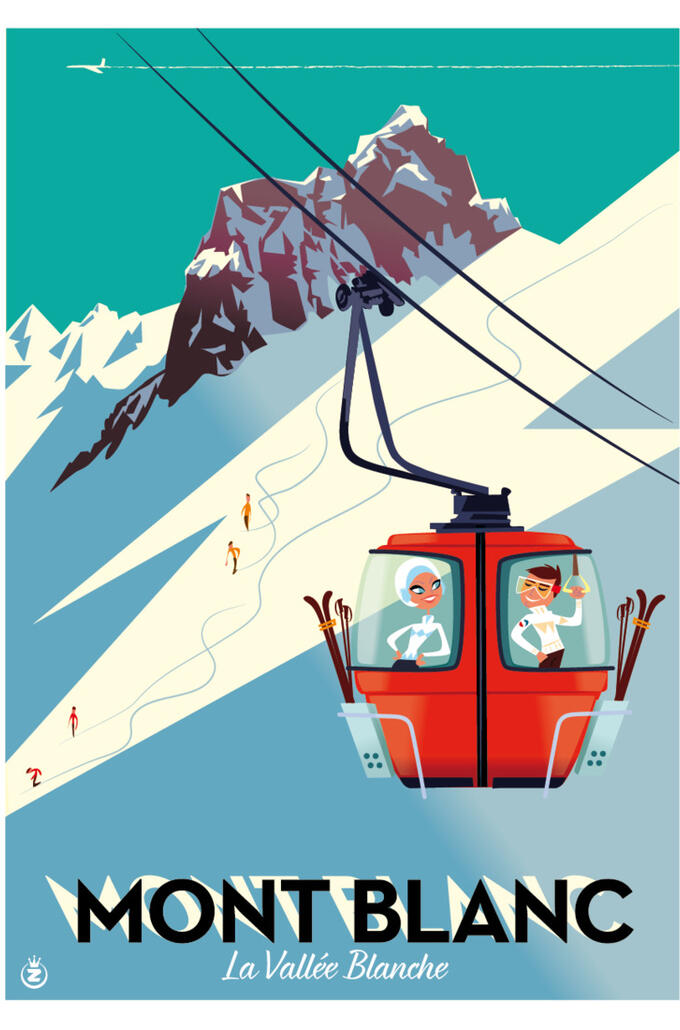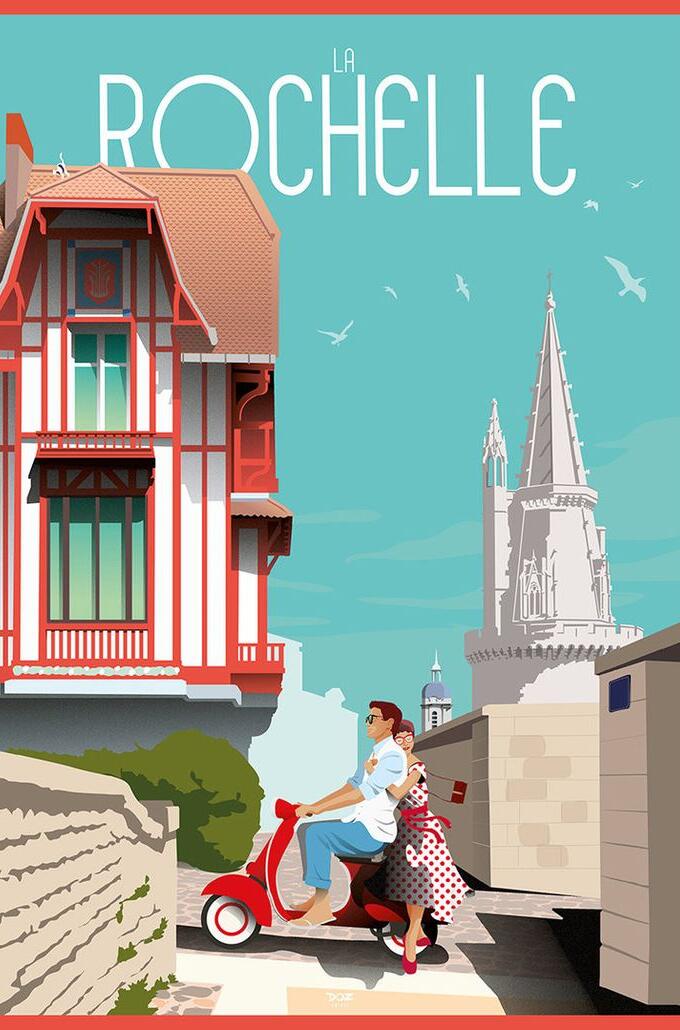 They are Céline Colombo, Monsieur Z, Doz…
and they are reviving the visual forms of the 1930s. Back then, such work was particularly prized by airline, railway, and steamship companies. The tourism industry is no stranger to this style.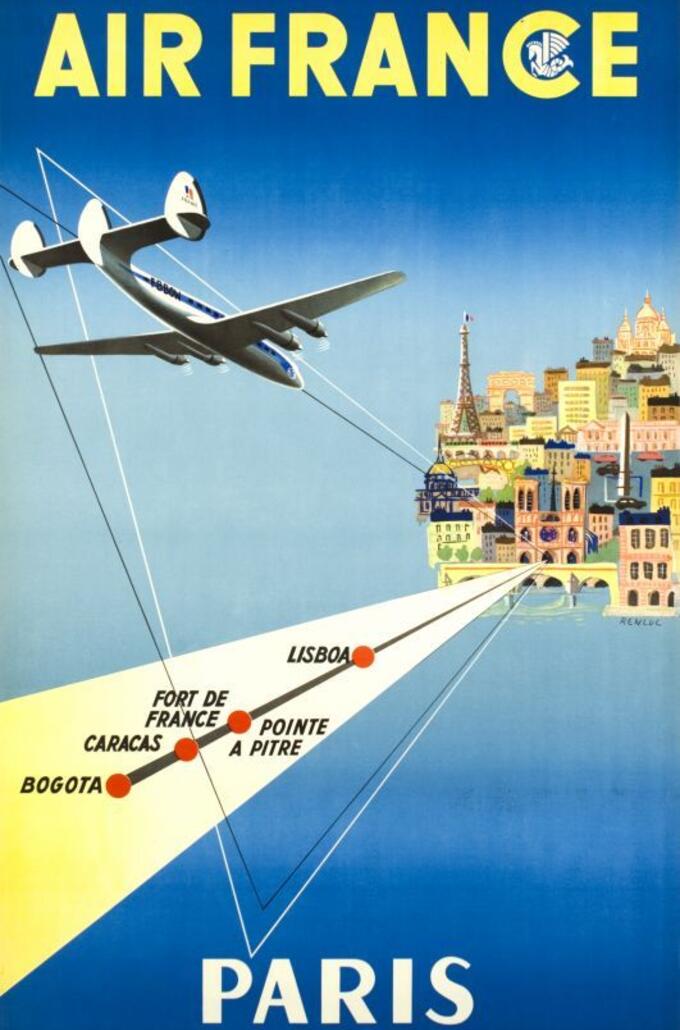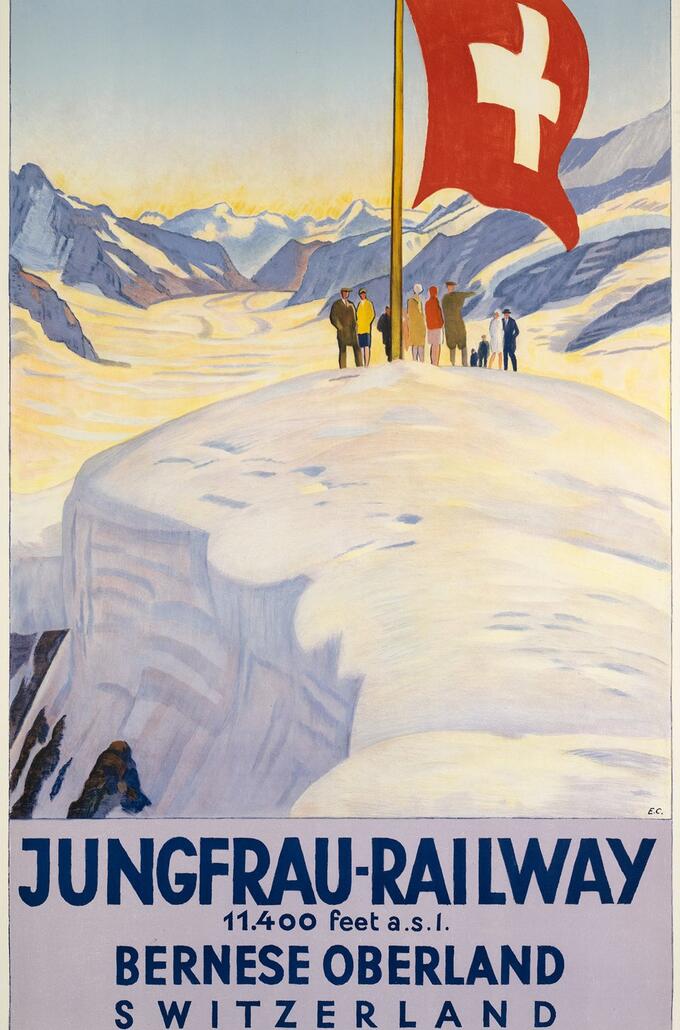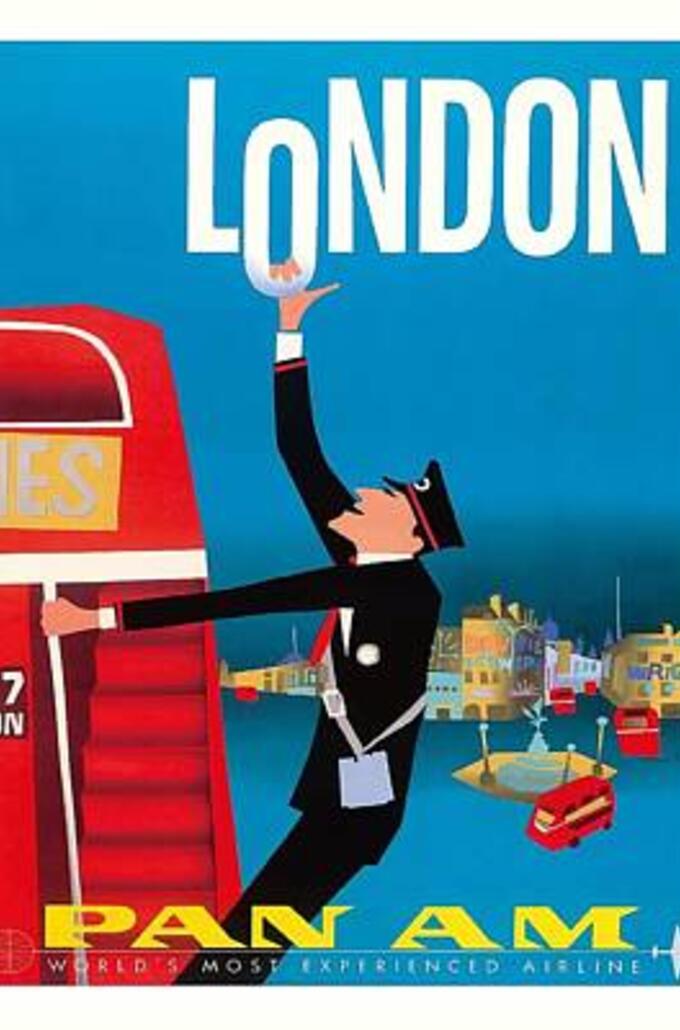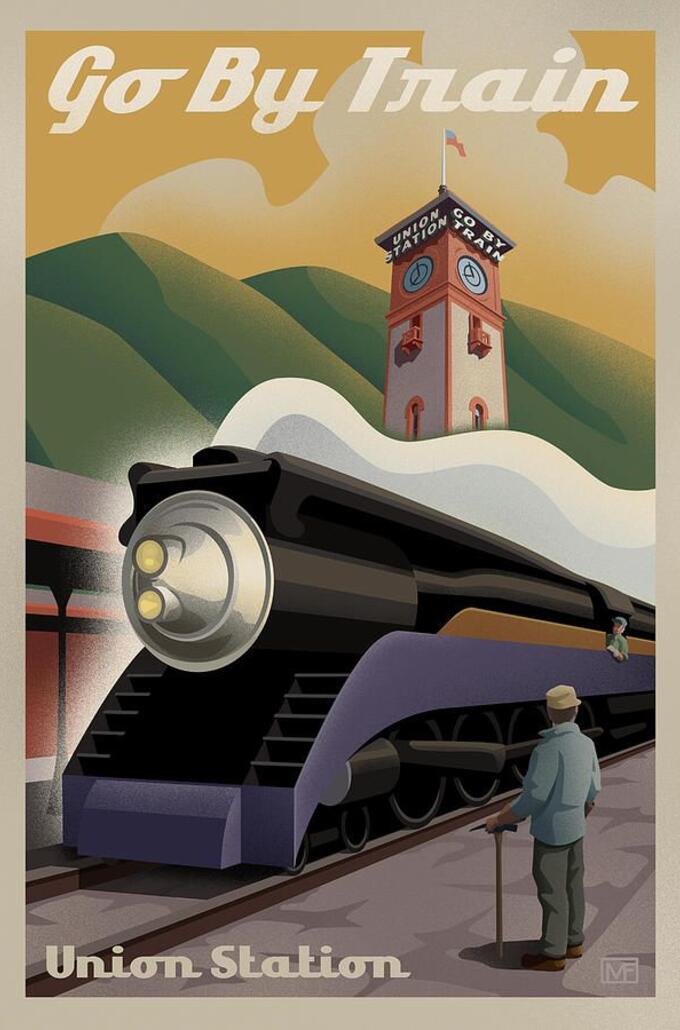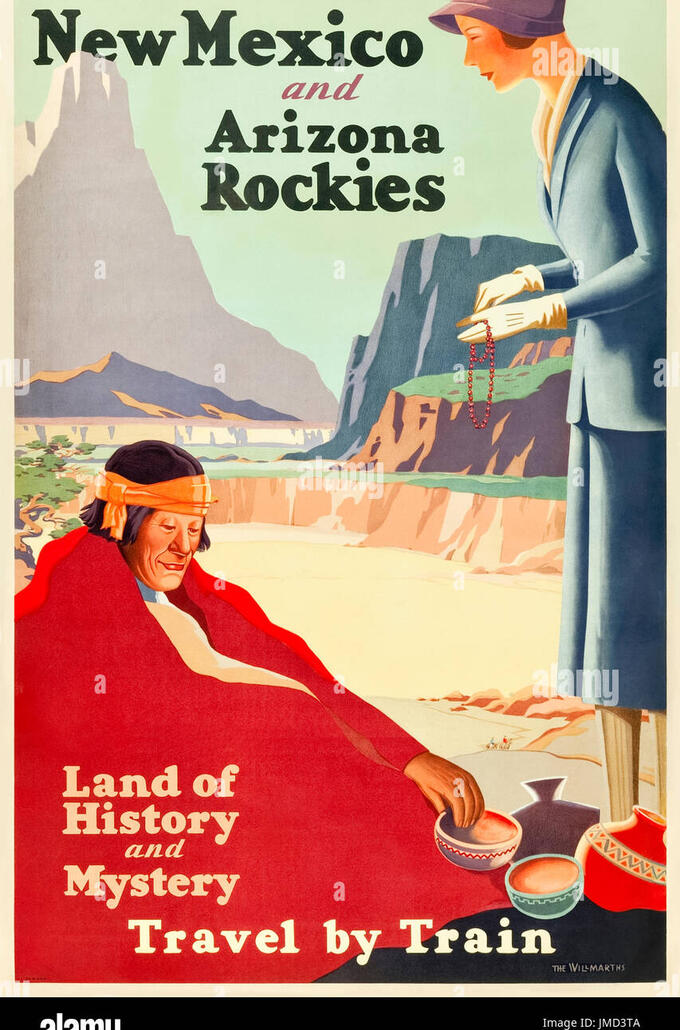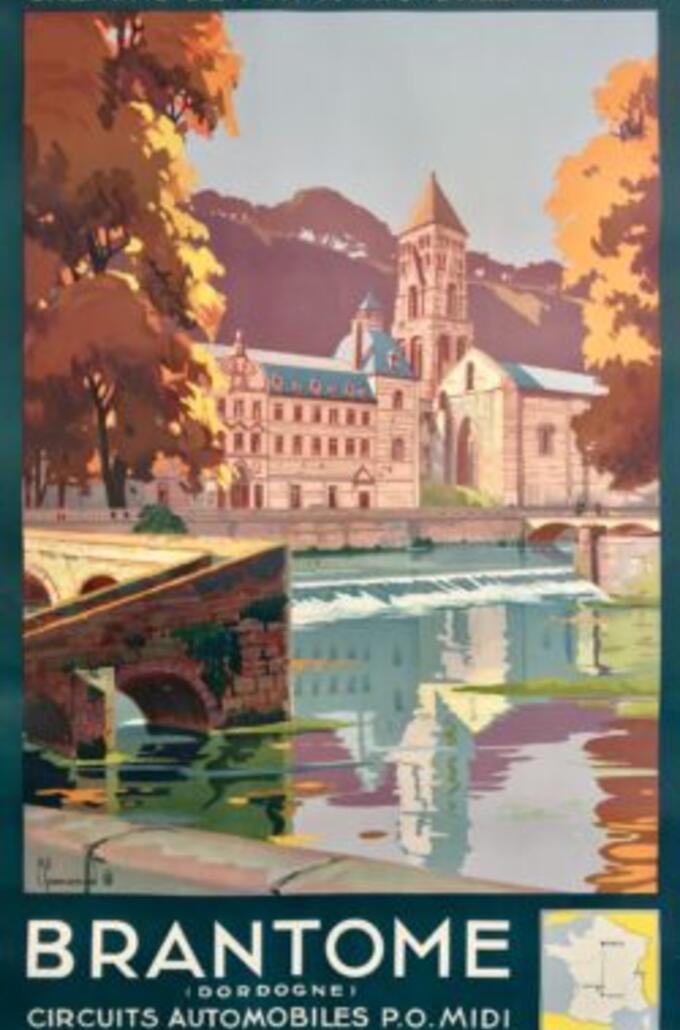 From a graphic design point of view, this esthetic has fun with warm colours like sandy beige and sunny orange, as well as with "pop art" tones like aqua blue, pink, and canary yellow. This palette is used as solid-colour fills as well as subtle shading.
There's also the feeling that photography was a strong influence on the work of 20th-century advertising illustrators. Consequently, this style is characterized by the level of detail, but especially by the very photographic way that areas of light and dark contrast with and stand out against one another.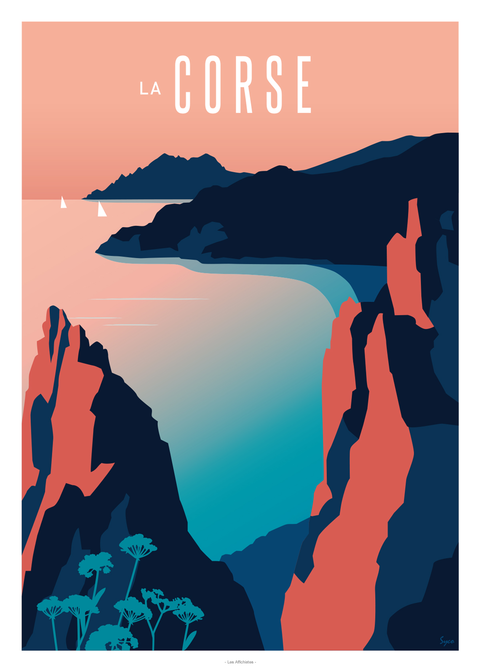 At a client's request, we've recently taken our pens and inks back in hand, so as to master this popular, playful style of illustration. This has also allowed us to offer up, just in time for summer, a powerful image that represents Charlevoix, in keeping with today's and yesterday's mainstream tourism trend: neo-retro style.
A snapshot that embraces the Charlevoix we know, with no references to specific locations: in short, an impression of Charlevoix.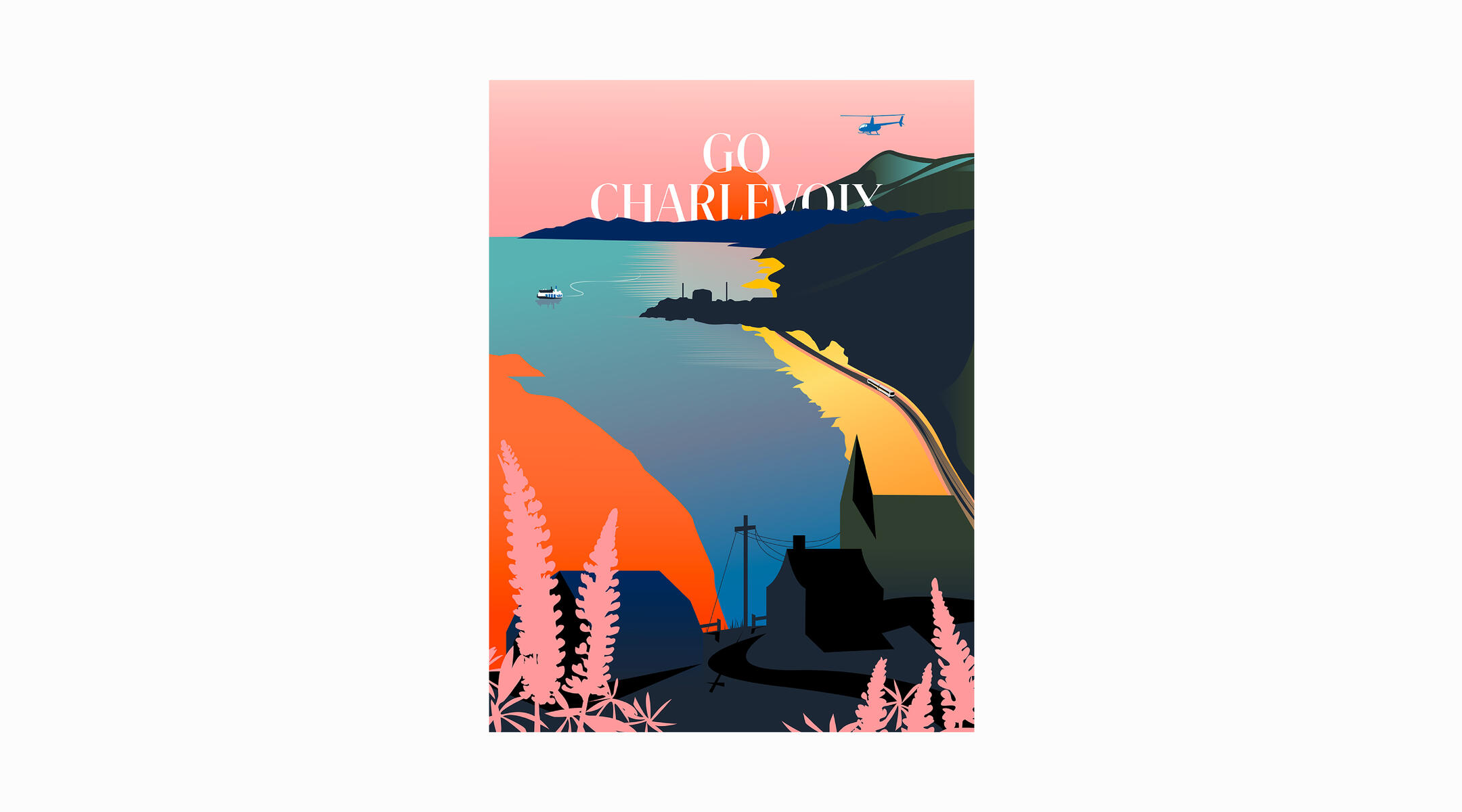 Unspecified capes, points, shores, peaks, wharves, and beaches extend down to the village below, also unidentifiable but for the typically Charlevoix silhouettes of the buildings casting long shadows in the setting sun, and contrasting with the daring pastel palette! In the foreground, lupins, like those found in our fields and along our roadsides, recall the pink of the sky. Next, as a nod to the graphic style's popularity with the different transportation companies of yesteryear, we can see the emblematic Train de Charlevoix, the ferry hinting at the Isle-Aux-Coudres, and even the Héli-Charlevoix helicopter!
Created using vector graphics with Adobe Illustrator software, some elements taken from photo reference and others drawn freehand, consisting of various elements and layers, this landscape was created by our graphic designer, Camille Dufour Truchon. A visual arts graduate and sometime-painter, she also puts her name to watercolour-and-ink drawings that decorate the metal boxes filled with delicious, lemon shortbread cookies from Chez Léon et Lily, the convenience store and artisanal cookie shop across from the beach at Saint-Irénée.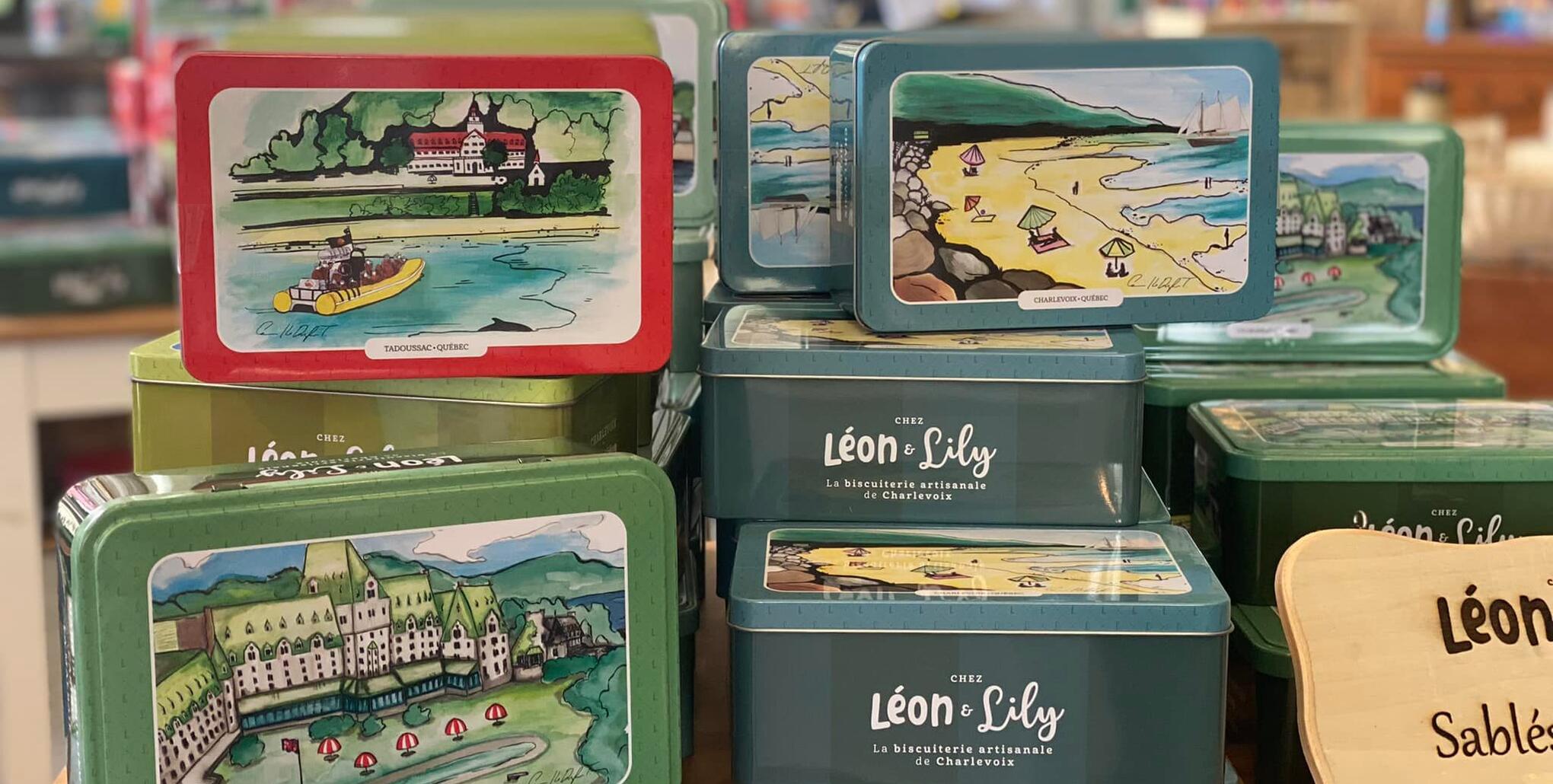 And it's not just Chez Léon et Lily who have succumbed to the urge to choose illustration as their instrument for communication and branding in Charlevoix. Many local businesses, organizations, and events are steering towards this powerful graphic design, in all kinds of styles, calling on sketch artists, artists, and illustrators from this area and elsewhere: the Microbrasserie Charlevoix's beers (Pol Turgeon), Le Festif de Baie-Saint-Paul festival (Arnopeople), Ultratrail Harricana of Canada (Karine Locatelli), the Auberge La Fascine (Carol-Anne Pedneault), the town of La Malbaie (Amélie Beaulne), the Auberge la Marmite (Karine Deschênes) and several others…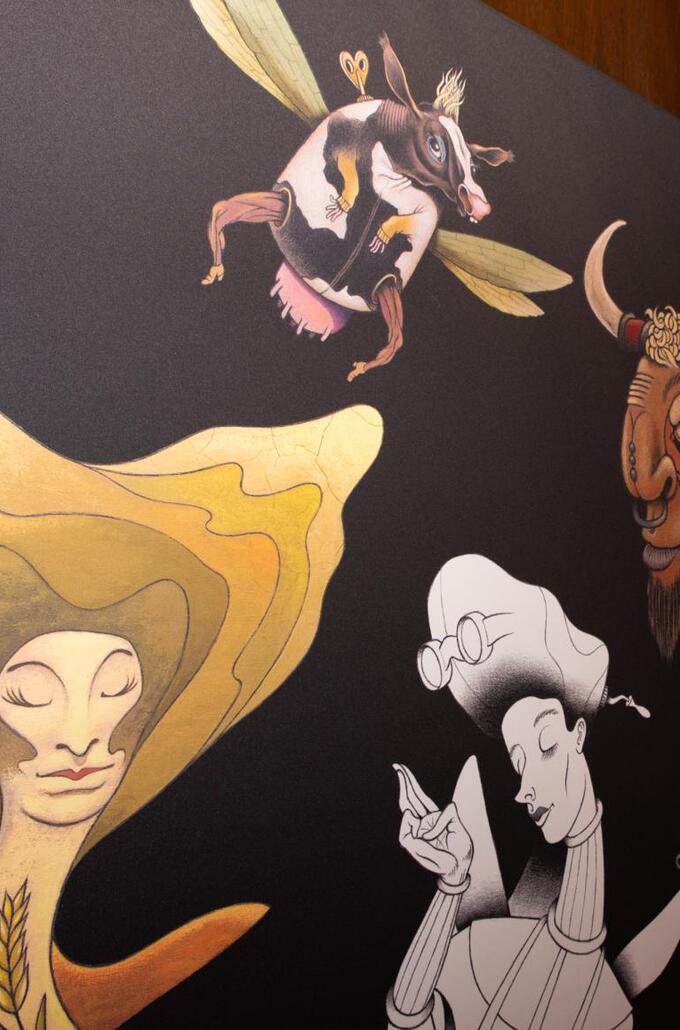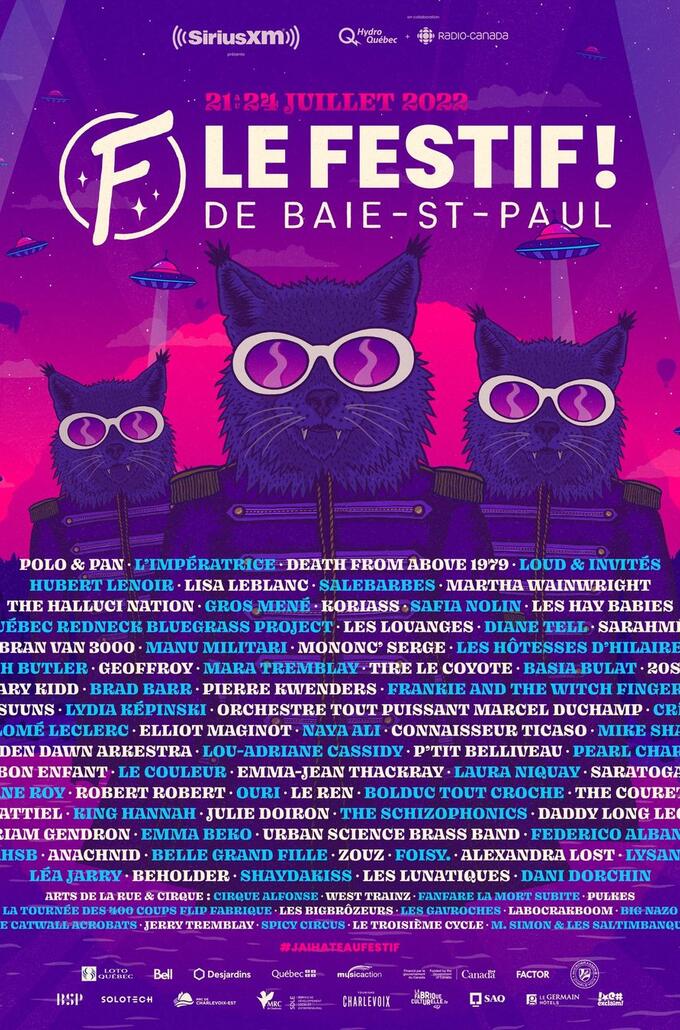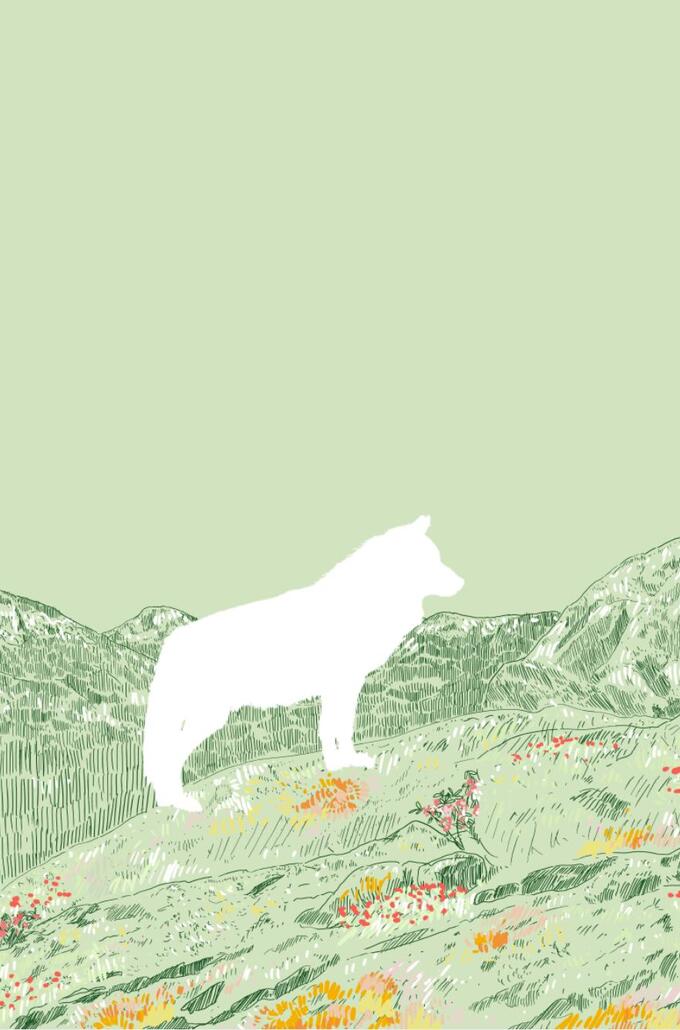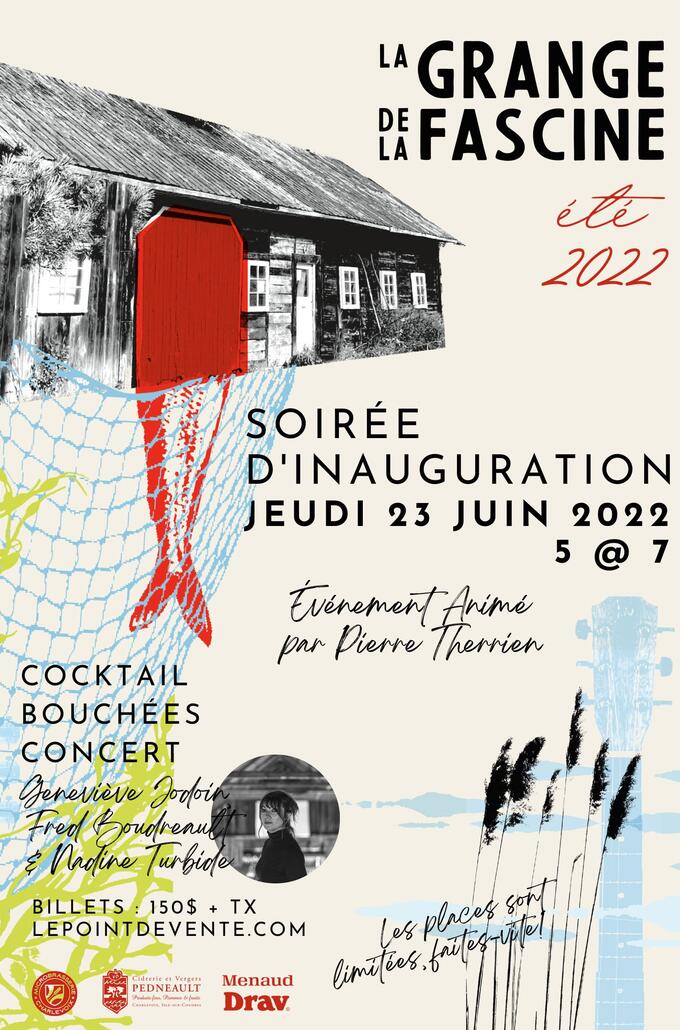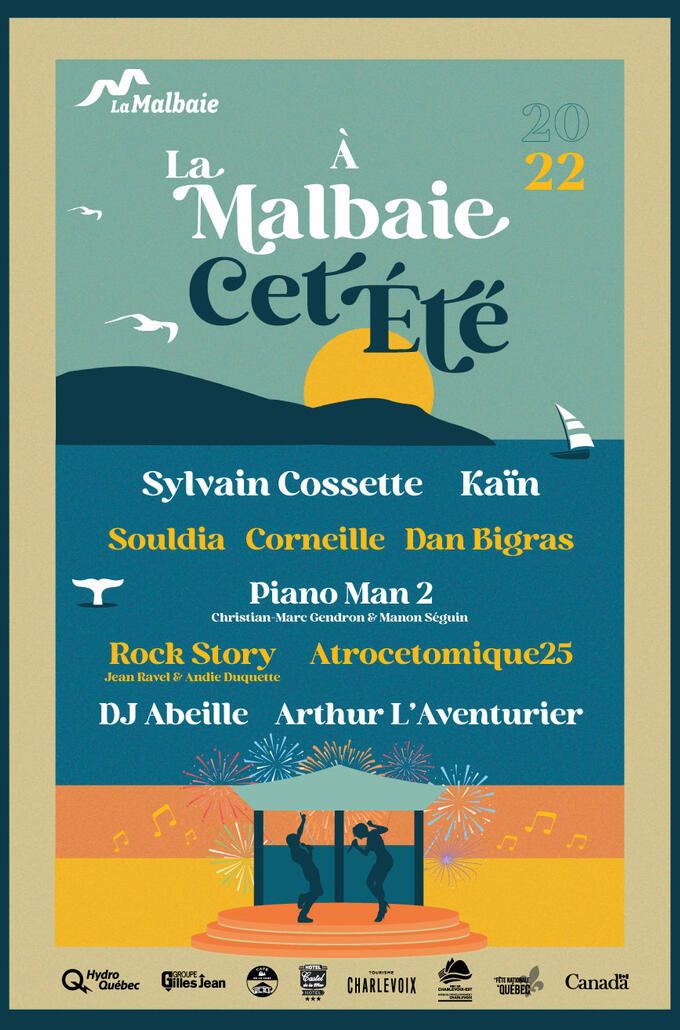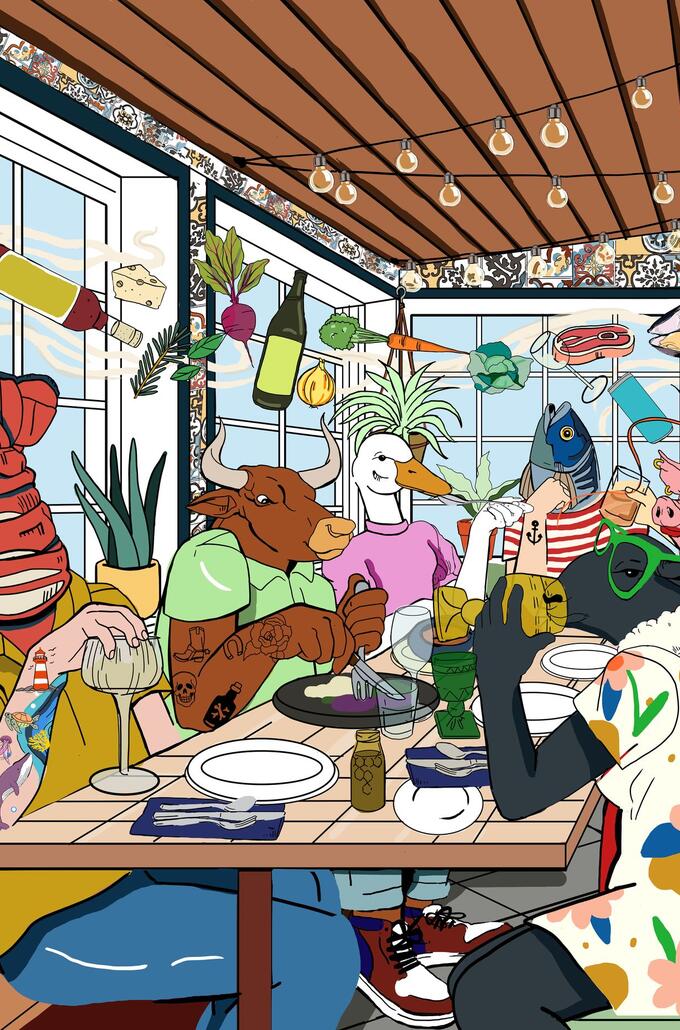 Go Charlevoix is proud be a part of this movement with this artwork, which we present to the people of Charlevoix: share it, download it, use it… It represents us all!