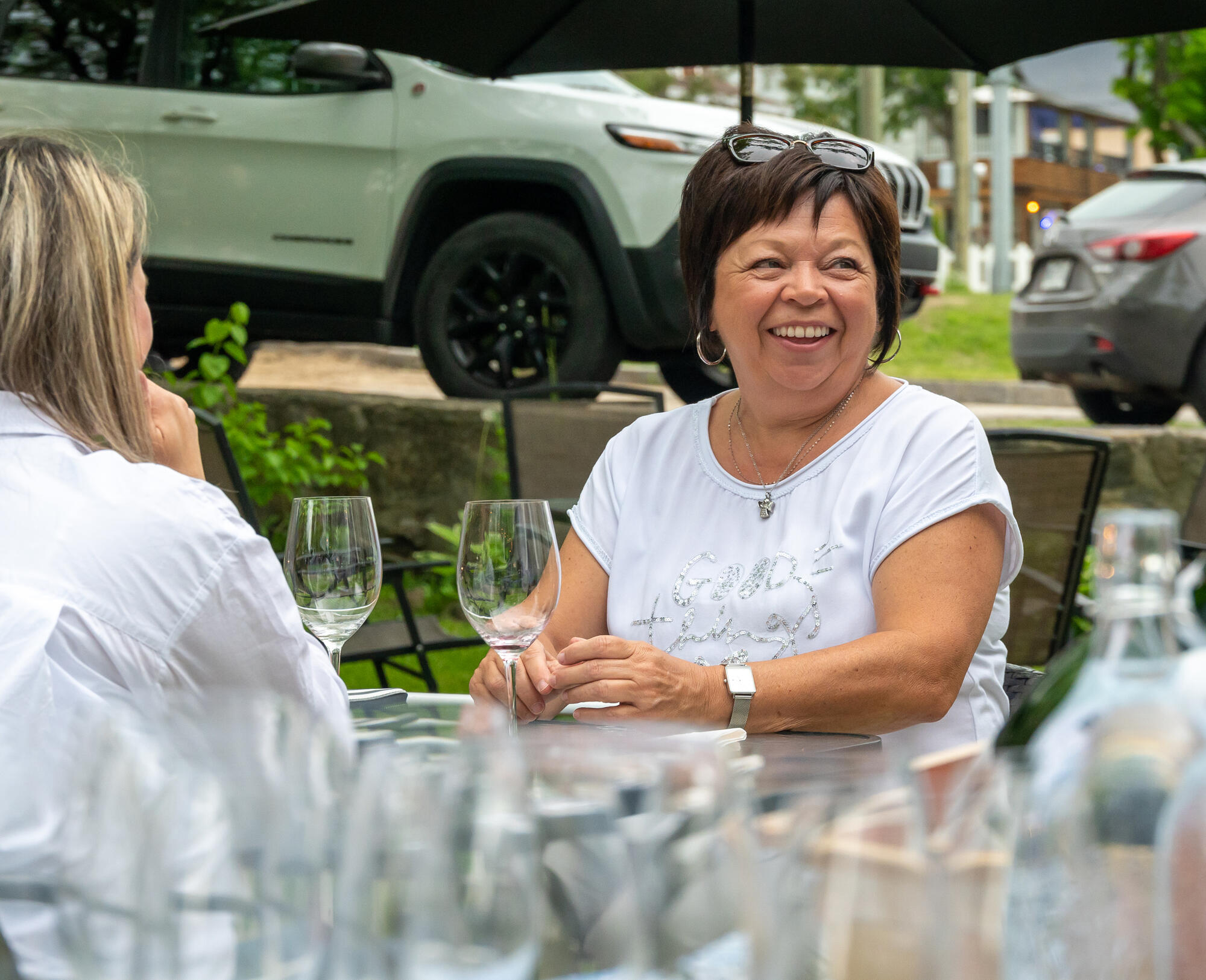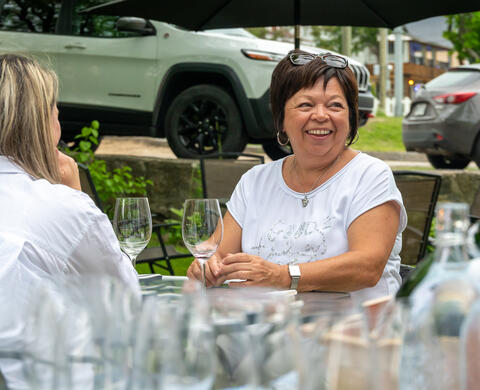 1 street, 6 must-visit patios
In the sun, in the rain, at noon or (almost) midnight... You'll find welcoming patios on the rue Richelieu in the Pointe-au-Pic neighbourhood in La Malbaie. Here, we let ourselves be guided by the aromas coming out of the kitchens, enticed by sidewalk chalkboards and menus full of gourmet promises… At any rate, we can't go wrong: each of these spots has its own charm, its own specialities, its own ambience. And they're all worth the time spent, on a beautiful summer's evening!
1. 
Chez Truchon
The ambience: A classic, wide, covered balcony attracts us with its "bistro style" aromas from the grill, the clinking of glasses, the eclectic selection of music, and the joyful hum of already-seated diners… The kitchen brigade and the service team are busy and in good spirits, making your evening a perfect one, worthy of the finest table chef Truchon can provide.
The menu: Gulf of St. Lawrence seafood in a lobster and lemongrass broth and, for your knife: beef tartare; also duck-fat fries, filet mignon, pork cheek, blood sausage, mackerel smoked in-house, and vegetarian options. And all of it just like home-made!
The comforts: We're properly sheltered from the breeze that comes along with the changing of the tide behind transparent, adjustable windbreak curtains that provide a clear view of the garden, its sculptures, or the action on the street… Also available are individual patio heaters for each table, so you can extend the evening with a last good glass of something, and dessert!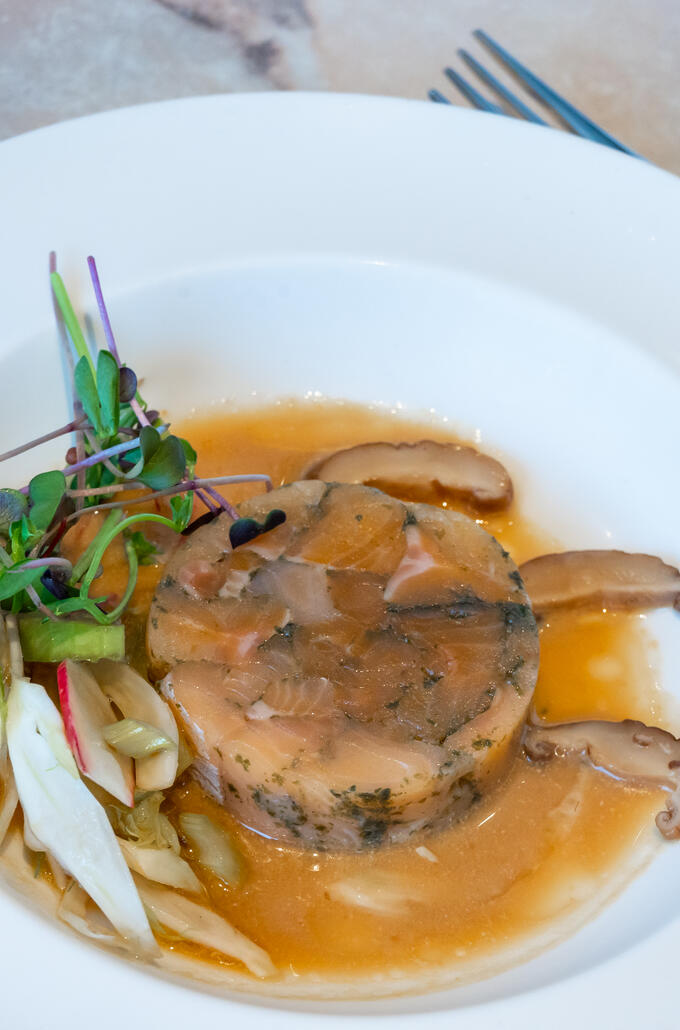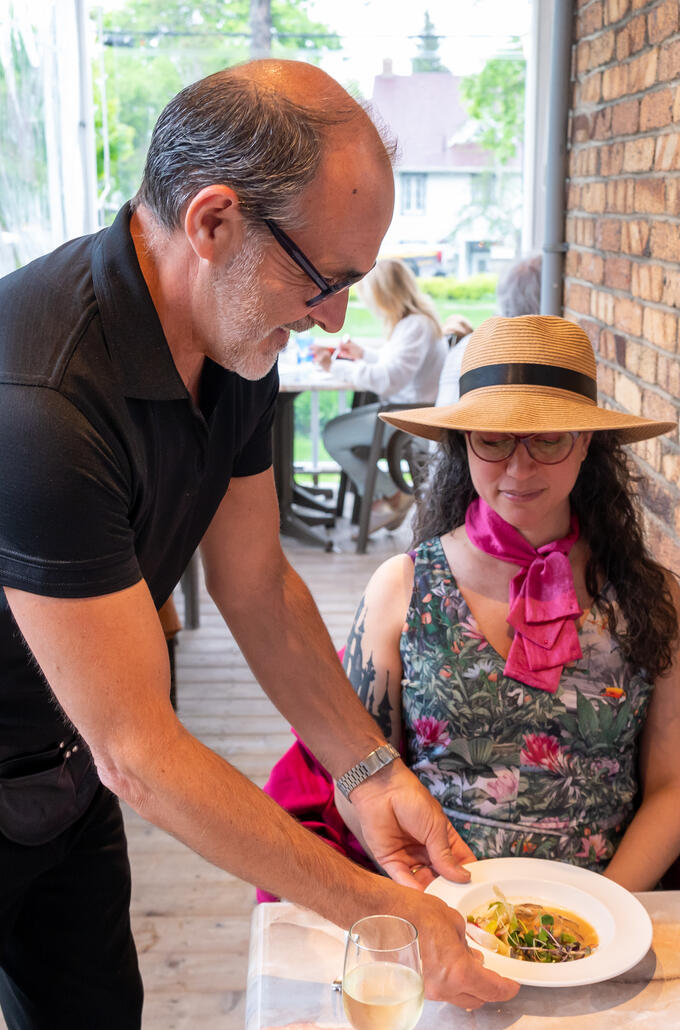 2.
La Marmite
The ambience: This is the perfect example of a country inn rejuvenated by the vision of a dynamic next generation. All glass and gables in the vernacular, local architectural style, this building is located in the Pointe-au-Pic neighbourhood and has a small lower courtyard surrounded by big trees which are lighted at night to provide a totally charming patio atmosphere: black bistro tables set on small paved areas surrounded by green grass, stone paths, and strings of lights to top it all off. A modern, fun, hip-kitsch feel (as in the women's washroom) permeates the recently re-designed interior decor. The food is excellent here, and contemporary; many wines, both natural and privately-imported, are available.
The menu: Stimpson surf clam chowder with bacon bits, wild mushroom puffs with black garlic, scallops and chorizo chips, flank steak with chimichurri, ravioli, and bouillabaisse, not to mention the daily desserts!
The comforts: The real outdoors is full of charm, but bring along a fleece, because the wind can come up and the air can cool down quickly, hereabouts. Which is quite nice on hot days, to be honest! But if it's too cool, you can always have a before-dinner drink outside, and get comfortable inside amongst the colourful cushions and luxurious interior design of the atrium. Warmth and board games await you!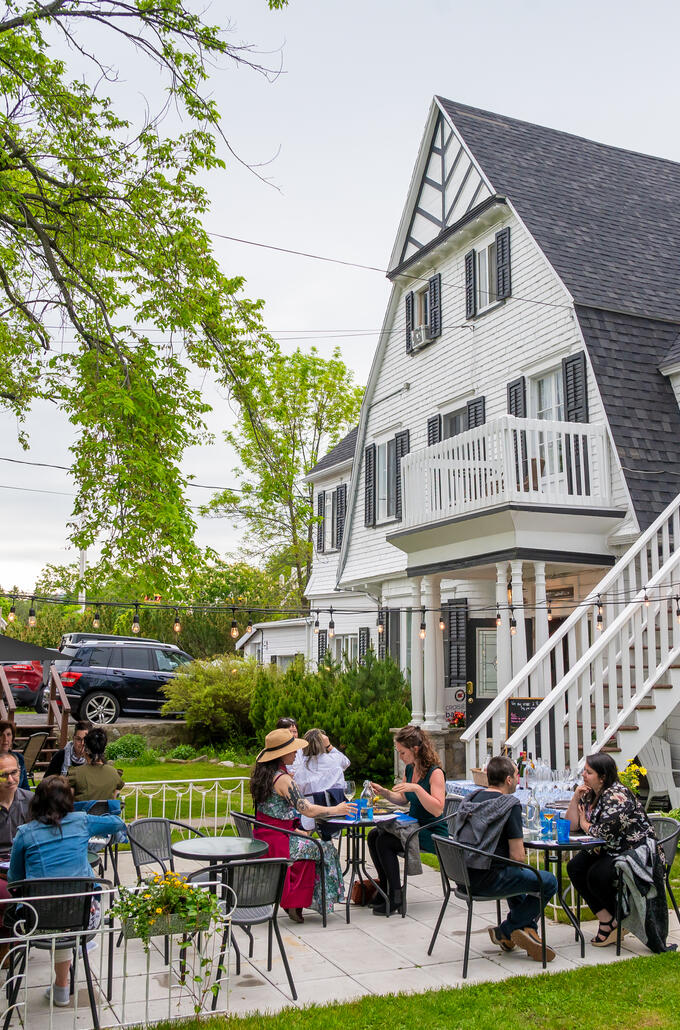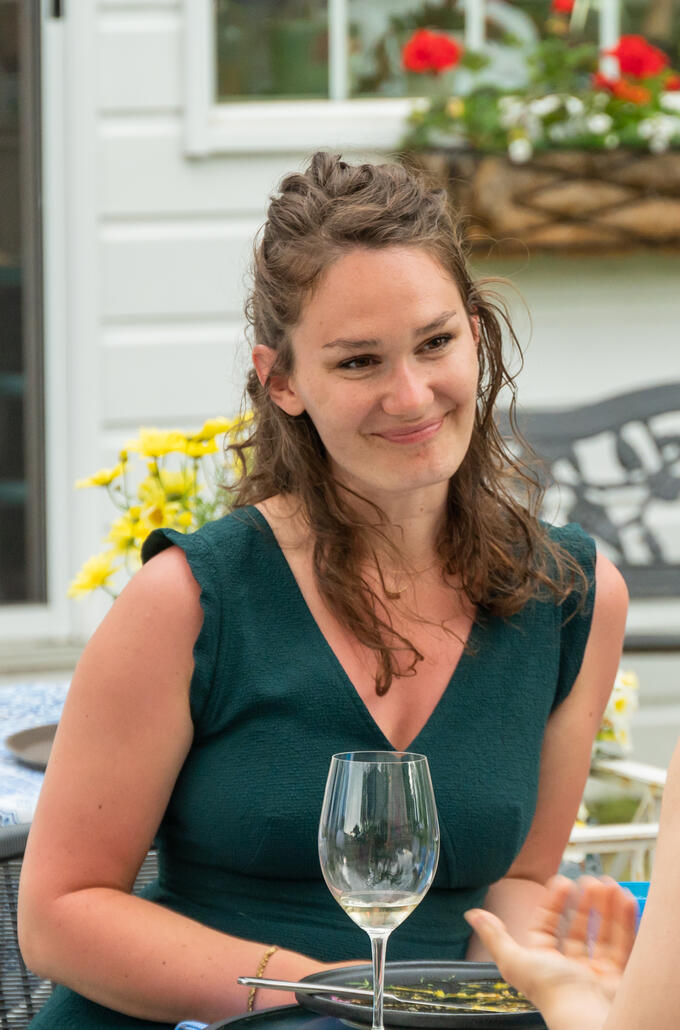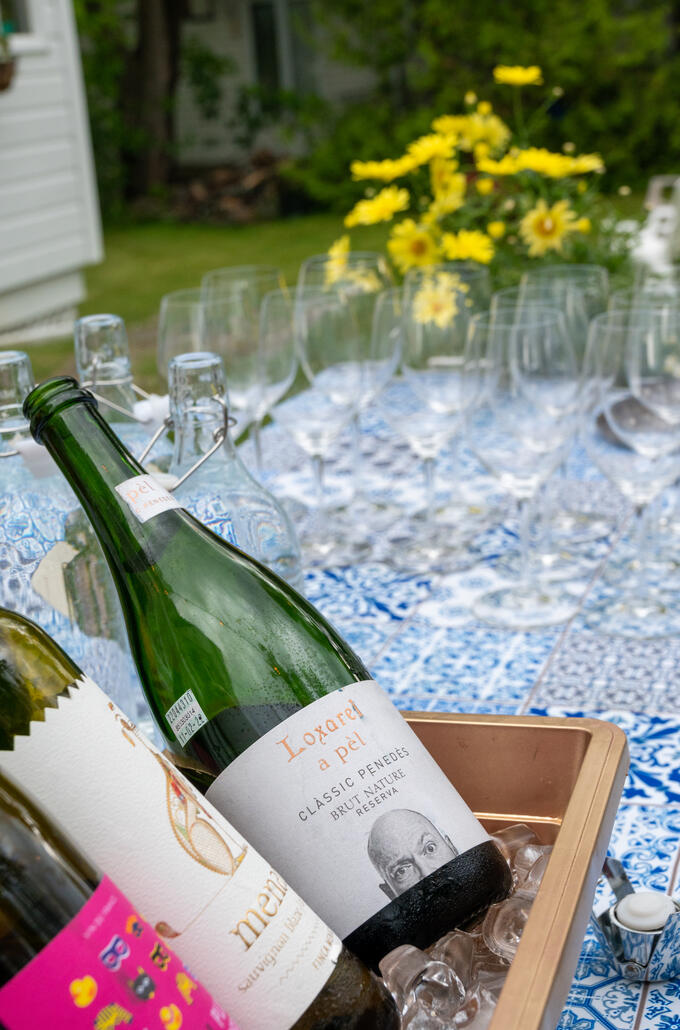 3.
The Café Chez-Nous
The ambience: From breakfast-time 'til late at night, this café is a meeting place for both local residents and tourists just passing through. There's a cheerful hubbub, whether around bowls of café au lait or pints of beer; the obligatory, shiny vintage chrome furniture mixed with illustrated posters and large mirrors lends a sometimes-retro, sometimes Paris-bohemian feel to the place. A true storefront café, the patio here is right on the sidewalk, right in the middle of the action, which we like. A bar-style counter and bistro tables await, so you can indulge by selecting from a menu that reflects the place and its clientele by its happy mix of a little bit of everything to suit everyone's tastes.
The menu: Pulled-pork nachos, cheesy bruschetta, smoked salmon tartare with sour cream, a terroir board of local products, house-made pesto-chicken pasta with sun-dried tomatoes, surprisingly colourful salads, croque-madame, vegetarian quesadilla, burgers, pizza… and baked goods!
The comforts: On the patio, the counter is covered and lighted, providing refuge when the weather changes. The tables themselves are available in good weather and are protected from the road by an enclosure. It's a warm and inviting spot.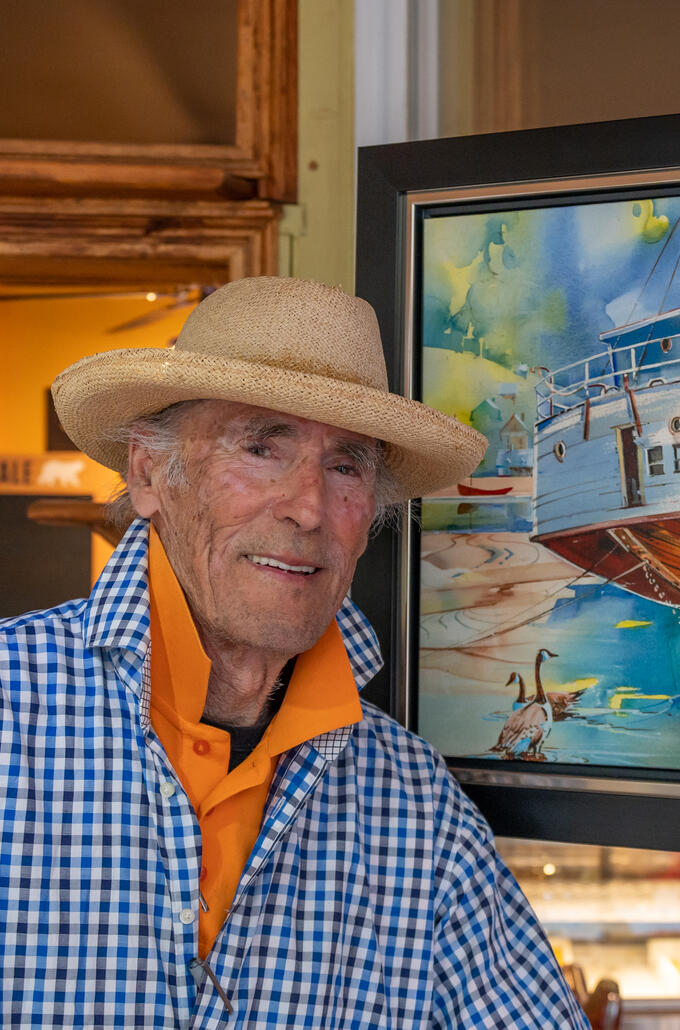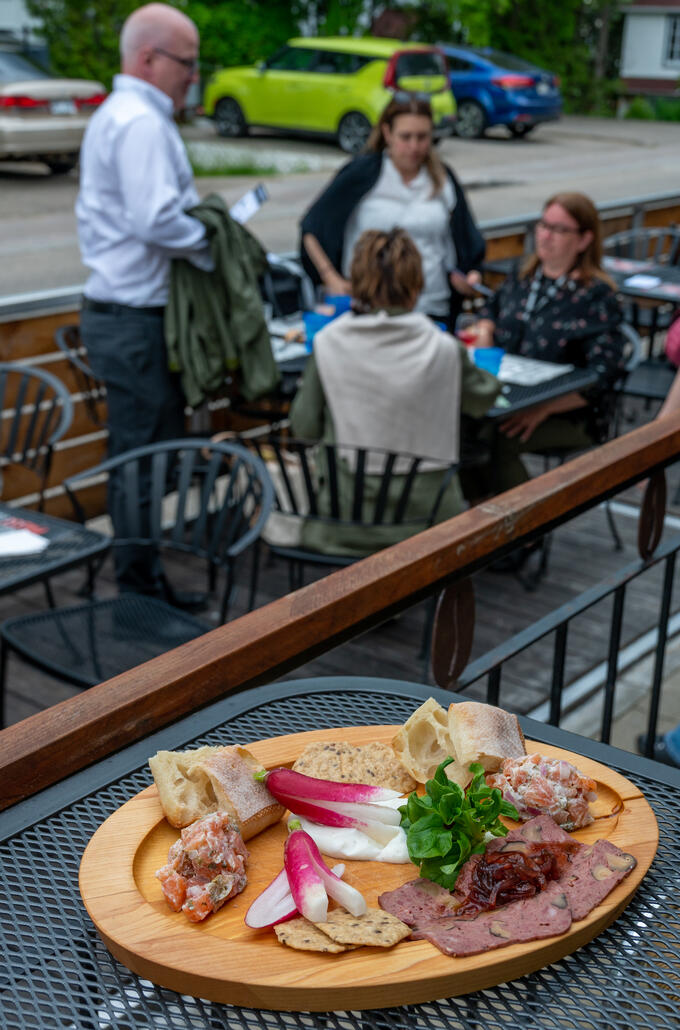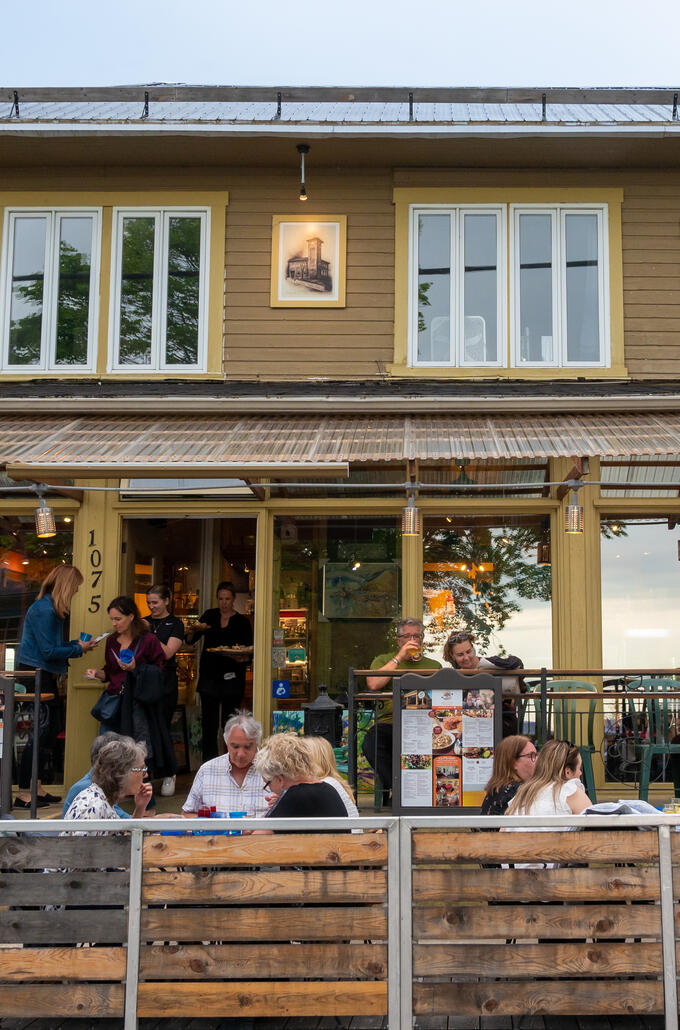 4.
Les pinsons des rives [The Shore Finches]
The ambience: A cute little treasure of a place! Both inside and out Les pinsons, as it's known by locals, is relaxed, cool, colourful, and addictive. A menu of original and contemporary cocktails, a ton of board games, short folk performances, many corners in which to spend a cozy evening, coffees, microbrewery beers to discover, and a varied tapas menu, almost always including vegetarian options. It's not surprising that Les Pinsons has its own band of die-hard regulars, whom you'll find around the bar or out in the sunshine: les locos [the crazy locals]!
The menu: Spicy edamame beans, polenta fries with beet ketchup, cheese-stuffed jalapeno peppers, grilled-cheese sandwiches, panini, local terroir boards, nachos, and the must-have dumplings! As well as the chalkboard selections, depending on your mood!
The comforts: It's the type of place that provides blankets when the air gets cooler, sails create shade when the sun is high, and water bowls are provided for your four-legged friends… Bottom line, they've always got a way to make you feel good. Like you're at home, but with a good glass of something in hand!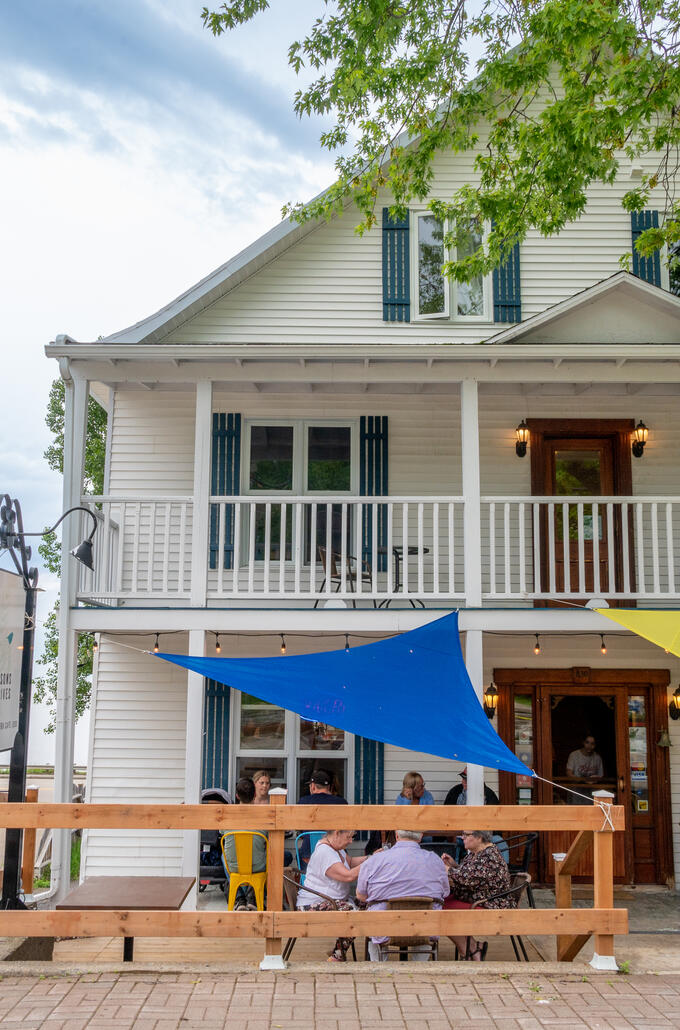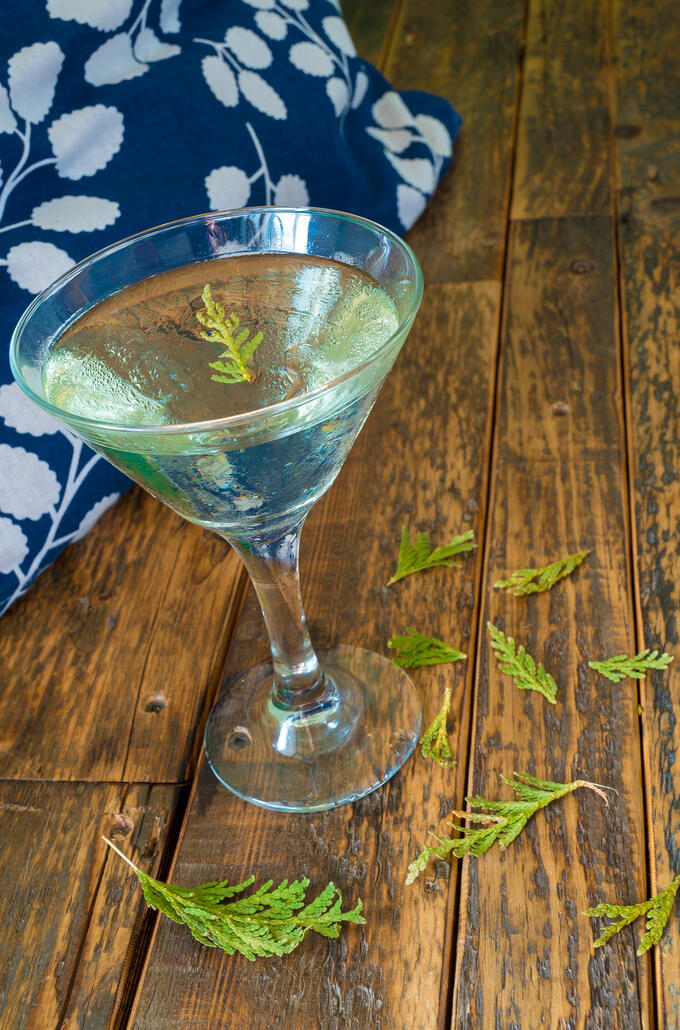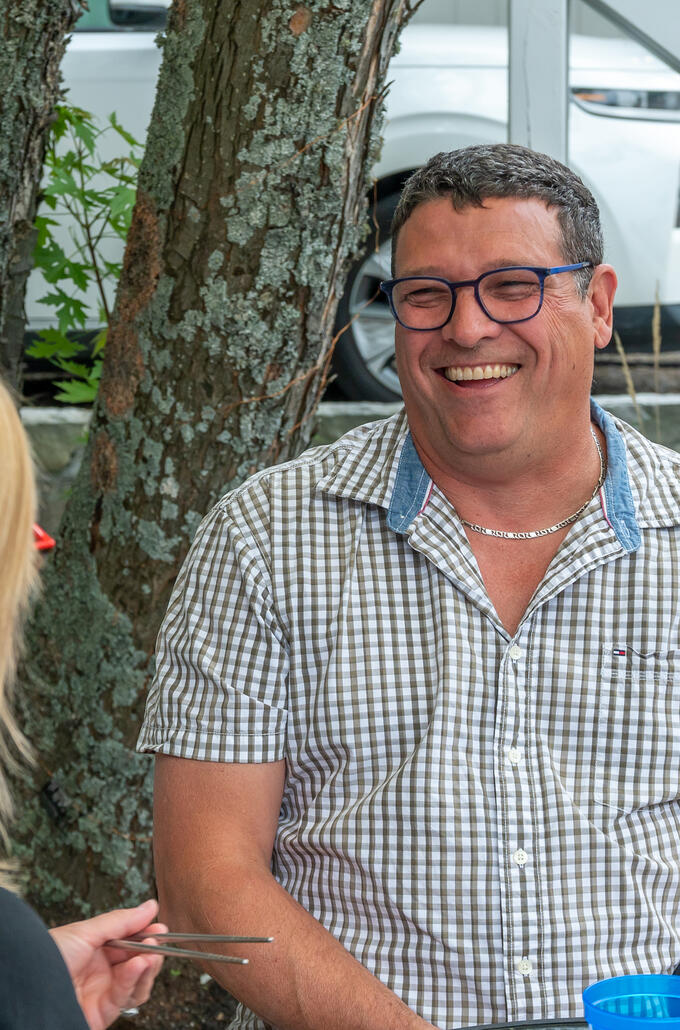 5.
La Bohème Steakhouse
The ambience: Steakhouse! La Bohème is a combination of rock, with a touch of western, and a bit of biker attitude thrown in; musical performances to entertain, and a bustling bar combines with a decadent and extensive menu of carnivorous delights. Wood planking and bull's horns, antiques, wagon wheels, and unusual objects, shelves filled to the breaking point with things to drink: in short, two floors of rough-hewn atmosphere! …Two floors inside and a veranda outside, as well as a large, open, cozy space around an outdoor fireplace on the main floor, where diners can sit.
The menu: Wagyu beef, house-smoked salmon, Thai chicken wings, beef tartare with chipotle mayo, steaks frites (any cut, any size), ribs, roasted Cornish gamehen with fines herbes, cod fish 'n chips battered with stout, gourmet burgers, Mac 'n cheese, and pulled pork poutine…
The comforts: The patio is not covered so it gets more use when the weather's clear, but with its potted palms, patio heaters, shade umbrellas, comfortable and sturdy furniture, and a fireplace that lights up the night, we'll happily spend our summer nights here!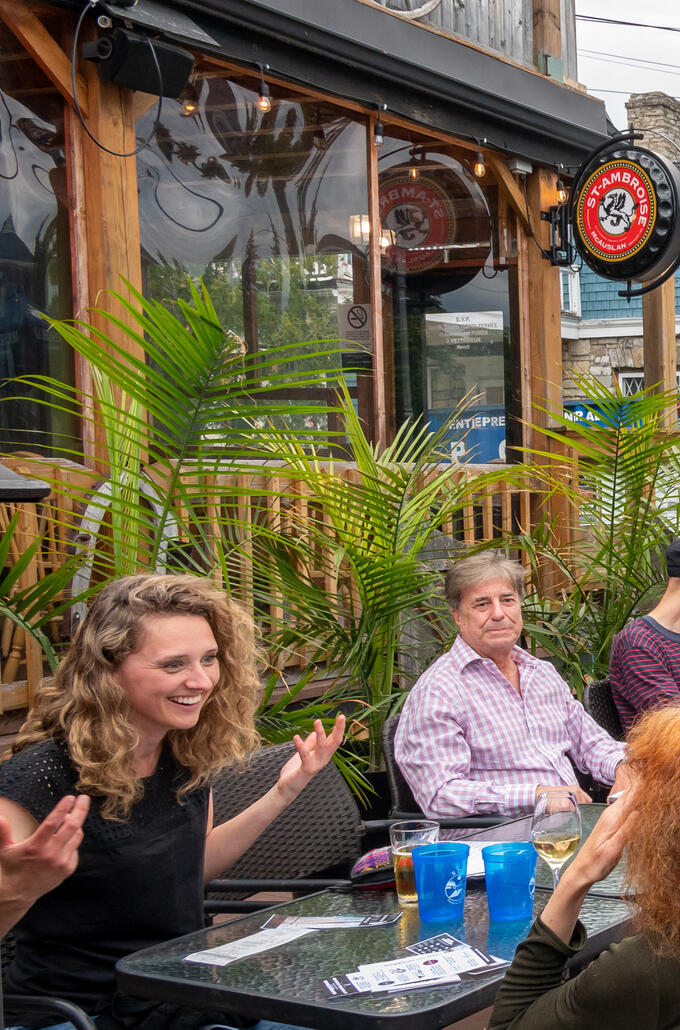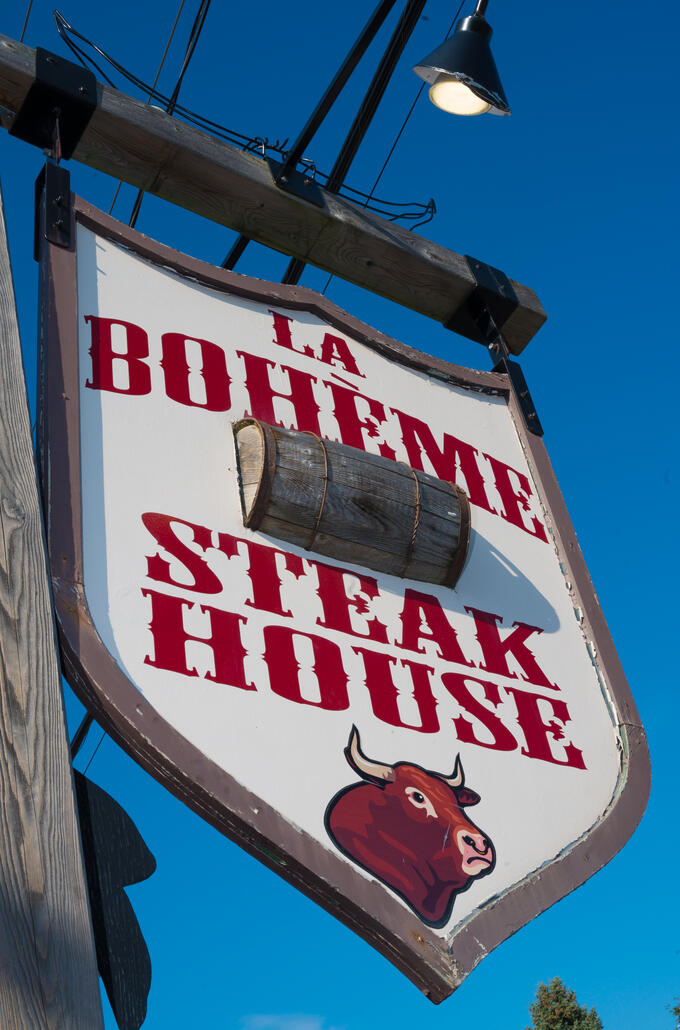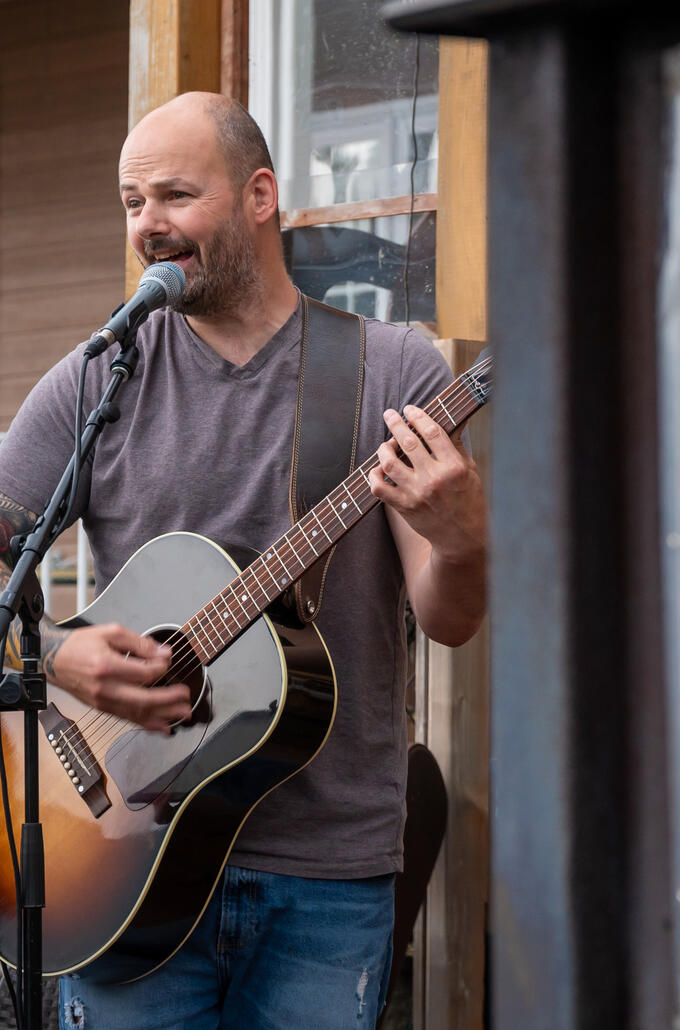 6.
Allegro
The ambience: At Allegro, the ambience is all about "lounge" and glamour. Glitzy lights, purple mood lighting, upholstered suede or leather banquettes. A night of downtown chic, electronic music in the background, awaits you at this spot prized for its Girls' Night dinners and intimate gatherings in the luxury of covered, enclosed patios well-appointed for long talks accompanied by a bottle of wine or cocktails. Some days, Allegro's L'étage discothèque/lounge space livens things up until the wee hours of the morning! But for those who would rather come for lunch or dinner, the kitchen trends strongly towards modern Italian, flirting with Asian flavours in an always-flavourful fusion.
The menu: Fried calamari, Tex-Mex egg-rolls and rice vermicelli, Norwegian lemon penne with smoked salmon and caviar, thin-crust pizzas, grilled chicken caesar salad, duck confit poutine, the Le Voga burger, filet mignon, shoestring fries, Asian-style salmon steaks, tartares and veal scaloppini.
The comforts: Controlled heat and an unobstructed view of the St. Lawrence river from the enclosed patio at the rear, or all the coziness and adornments of a regular dining room on the new garden- and street-side patio at the front.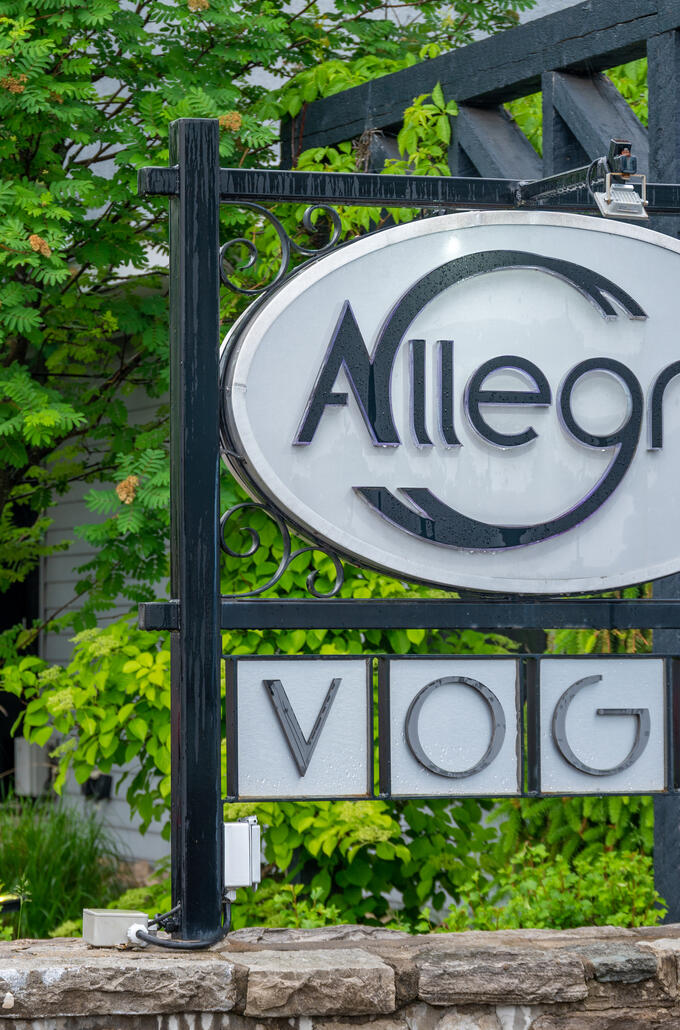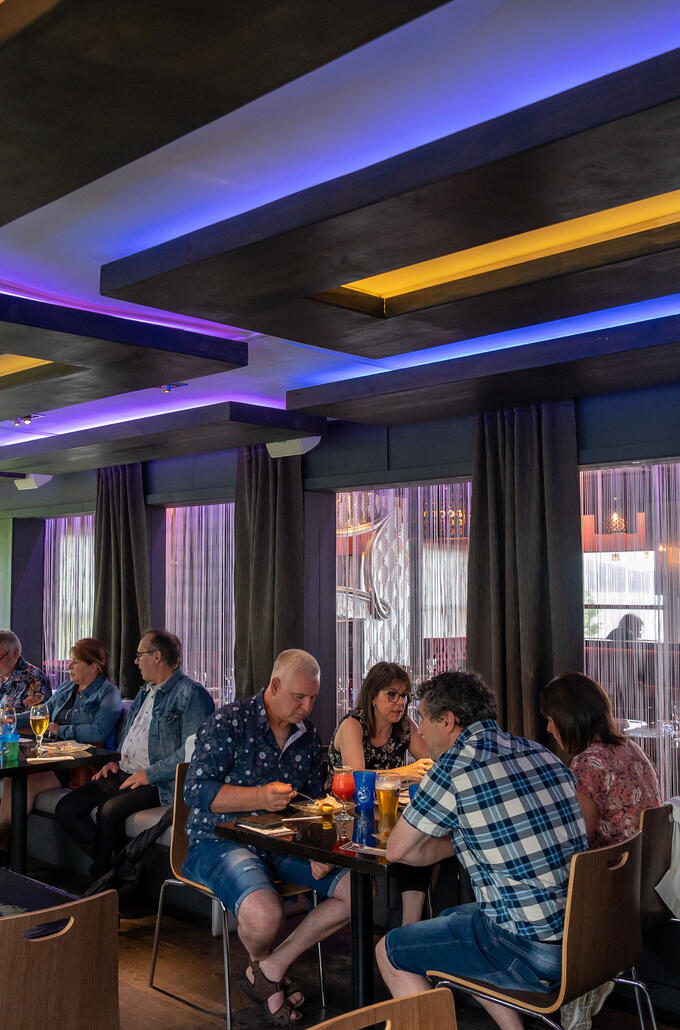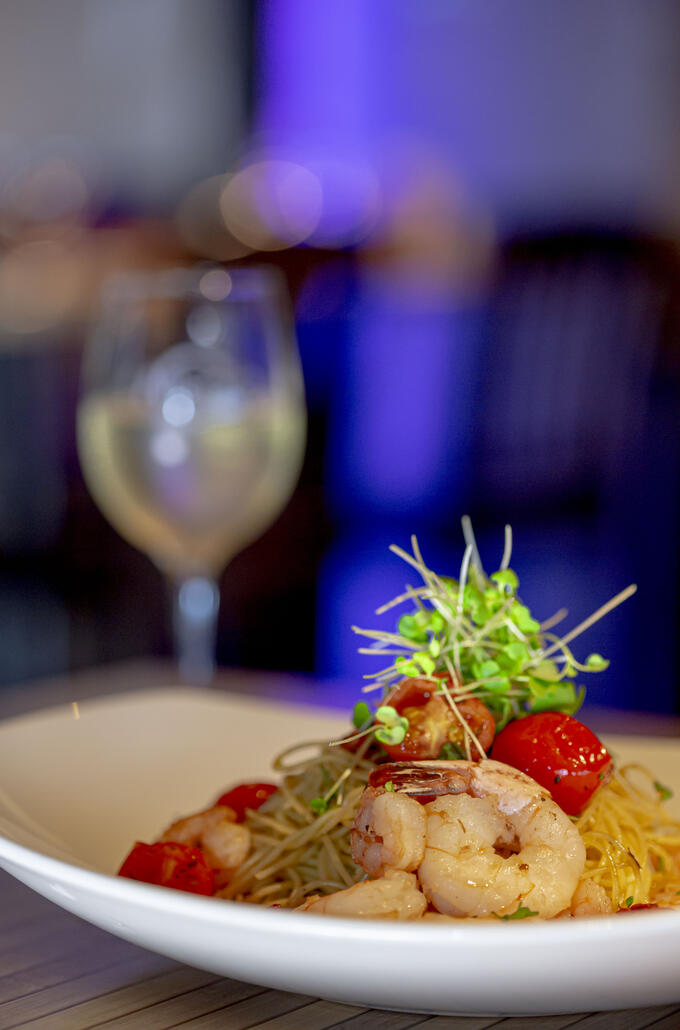 Um… Is it just us, or is everyone really hungry, all of a sudden? Get down to the rue Richelieu and share a fine summer meal on the patio!
Text
Camille Dufour Truchon, Mark Lindenberg (Translation)
Photos
Sylvain Foster, Patrice Gagnon